Abacus Data CEO Dr. David Coletto presented PIPSC Member Survey Results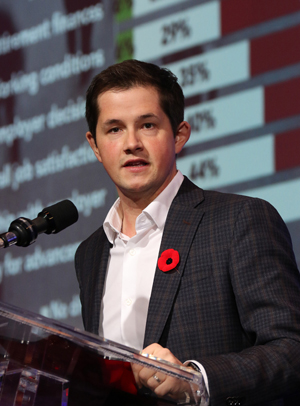 Dr. David Coletto, Chief Executive Officer of Abacus Data, a Canadian polling and market research firm based in Ottawa, gave the delegates a brief update on the topline results of the survey of PIPSC members conducted in August 2019 and compared these results with previous member surveys.
The August 2019 survey reveals there has been a significant increase in the number of fully satisfied members over the past three surveys, going from 70% in 2016 to 81% in 2019. 
There was also a significant increase in members' approval of the union leadership's views from 62% in 2016 to 78% in 2019. 
On the dues front, the number of members "very likely" to pay dues even if they didn't have to has increased by 5% to 33%. Another third of the members say they're "likely" to pay their dues voluntarily. 
The PIPSC brand has many positive attributes. There's a strong consensus that PIPSC is fair and approachable, protects member interests, is effective and helps people. 
There are areas for improvement.  A majority of younger members say they don't see people like themselves in the union. While this has not decreased those members' general satisfaction with PIPSC, it tends to make those members less likely to want to pay their dues voluntarily. We can win greater support from the less-involved members by adjusting the tone of our communications to their preferences and creating more welcoming onboarding and engagement opportunities for them. 
The survey tested 12 workplace issues. Pensions are the top issue for virtually all our members, regardless of age. After that, other pocketbook issues topped the list. 
There are strong correlations between members' likelihood to be willing to pay their dues voluntarily and high satisfaction with PIPSC and positive impressions of the union. However, the strongest correlation for paying dues is members' perceived value of dues. The strongest drivers of this perception are members' beliefs that elements of their job such as work benefits, salaries, job security and retirement finances would be worse without PIPSC.
The Institute is most successful if we can convince our members that their union is a community that acts collectively to make their lives better. The Institute's recent successes on Phoenix replacement and compensation, collective bargaining and Employee Wellness Support Program are strong foundations for making such an argument with great credibility.