TO:
Members in the British Columbia/Yukon Region
FROM:
Robert K. MacDonald
Regional Director
DATE:
August 13, 2018
SUBJECT:
Occupational Health and Safety Training – December 1, 2018
We are pleased to advise that an Occupational Health and Safety (OHS) Training session is being offered on Saturday, December 1, 2018 at the Morris J. Wosk Centre for Dialogue in Vancouver, B.C. The OHS Training session will be one day, starting at 9:00 a.m. until 5:00 p.m. on Saturday.  All participants are required to attend the full day. 
This training module is designed to assist PIPSC members sitting on OHS Committees in the workplace.  This training is in addition to any training provided by the employer and is specifically intended for employee representatives.
Participants will learn:
What health and safety entails;
An overview of occupational health and safety codes which applies to the federal, provincial and territorial sectors;
The roles and responsibilities of employers under various codes;
The roles and responsibilities of bargaining agents under various codes; and
Their role as a steward and PIPSC activist in promoting a safe and healthy workplace.
We ask that you complete the attached registration form and return it no later than midnight on Monday, October 22, 2018 by pdf to Patricia Fung at pfung@pipsc.ca or fax to 604 688.8290, to be considered for participation at this training.  Registration will not be accepted by telephone.
As we are limited to the number of participants for OHS Training, a selection criteria has been established and will be applied when reviewing the applications. As we anticipate that this training activity will be heavily subscribed, you are encouraged to submit your registration as soon as possible. 
You will receive a confirmation e-mail acknowledging receipt of your registration form.  If you have not received acknowledgement of your application, it is the responsibility of the applicant to make contact with the Vancouver Regional office no later than October 25, 2018. 
Once your registration has been reviewed, you will receive a second e-mail advising whether you have been selected or not selected to attend this training.  This will occur after the close of registration.  Please be advised that travel arrangements cannot be made, nor will hotel reservations be made in your name, until you have received confirmation of attendance by e-mail from the Vancouver Regional Office.
WE WILL NOT BE ABLE TO GUARANTEE YOUR HOTEL ACCOMMODATION IF WE DO NOT RECEIVE YOUR REGISTRATION FORM BY OCTOBER 22, 2018.
ACCOMMODATION
The hotel coordinates are:
Delta Hotels by Marriott Vancouver Downtown Suites
550 West Hastings Street
Vancouver, BC
V6B 1L6
https://www.marriott.com/hotels/travel/yvrdv-delta-hotels-vancouver-downtown-suites/
604 689.8188
Accommodation will be provided in accordance with the PIPSC Travel Policy.
Guest rooms will be reserved on your behalf.  The room rate is based on single or double occupancy. 
Accommodation will be provided on Friday night for those members who cannot arrive at the meeting location without having to leave their home prior to 7:00 a.m. on Saturday morning.
Accommodation will be provided on Saturday night for those members who cannot arrive home by 8:00 p.m. on Saturday night travelling by the most direct route including a one hour meal stop.
Hotel guests are required to present a valid credit card upon check-in at the hotel to process the room reservation.  This is to cover incidentals and/or any miscellaneous room charges which are the responsibility of each guest.
The cost of the hotel will be paid by the Institute through a master account.  Rooms have been guaranteed to the Institute for late arrival.  Please be aware that PIPSC will be charged in full for any rooms cancelled within one week of arrival [by November 23], regardless of whether or not they are used.  We ask that you be mindful of this fact when completing your registration form. 
If you need to cancel or make any changes, please contact Patricia Fung immediately at pfung@pipsc.ca or 604 688.8238 or 1.800.663.0485, extension 7820.  Should you have to cancel your attendance on the Friday or Saturday of the OHS Training session and you have a room booked, please call the hotel directly to cancel your room prior to 4:00 p.m.  Please also send an e-mail to Patricia Fung at pfung@pipsc.ca.  Failure to follow these procedures may result in being charged directly for your accommodation.
MEALS
Lunch on Saturday will be provided for all participants. 
TRANSPORTATION
Members can claim the lesser of the actual kilometres (currently 53¢/km.) driven or the rate of $700.00, which is based on Air Canada Flight Passes and ground transportation.  This is based on the PIPSC Travel Policy Schedule A, effective July 1, 2018.  New rates are expected on October 1, 2018.
Compensatory salary and meal expenses will be reimbursed based on travel by plane.
Any car rental requests require pre-approval.
Once we have confirmed your registration by e-mail and you require air travel arrangements, please call BCD Travel in Ottawa at 1.866.768.7624 or by e-mail at reservations1.ca@bcdtravel.com to reserve your flights.  Please be aware of the three (3) hour time difference when you call.
If you have any questions about the PIPSC Travel Policy, please inquire prior to travelling.  Additional costs due to driving (rather than flying), such as meals, time missed from work and accommodation incurred during transit, will be at the responsibility of the traveller.  Refer to the PIPSC Travel Policy available on our website at www.pipsc.ca for further information.
PARKING
Parking is provided at the hotel.  Reimbursement will be provided for one vehicle per member. 
COMPENSATION FOR LEAVE
Institute policy allows for compensating participants who use vacation leave, compensatory leave or union leave without pay for attendance at this training session.  Compensation is also allowed when such leave is required to travel to the session.  The participant must complete an Institute Compensatory Salary Claim form [available on the website] and attach a copy of a completed employer's leave form which indicates that the leave has been approved.
Salary compensation will be limited to reasonable travel time, except in the case of shift workers who will be reimbursed for appropriate shifts missed due to their attendance at the training.
Reasonable travel time is defined as the amount of time that it takes to get from your home or office to the meeting location by the most direct route with no stops, with the intent on arrival at the training for 9:00 a.m. on Saturday, December 1, 2018.
OTHER
Dependent, child or other care expenses will be paid by the Institute where receipts are provided, in accordance with the PIPSC Travel Policy.
All other expenses will be reimbursed according to the PIPSC Travel Policy.
Any special requests for travel outside of these guidelines must receive prior approval.
We look forward to meeting with you on December 1, 2018.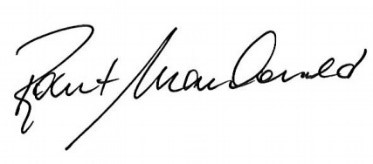 Robert K. MacDonald, B.A., MRM
Steward
Director, BC/Yukon Region