Yukon Branch
Regional Council Meeting
May 31/June 1, 2019
Yukon Branch President/YHC Group Presidents report
The year started off with a level 2 grievance related to a change in the scheduling model. We negotiated a variation on self-scheduling that is a cooperative schedule created in 3-month blocks on the east unit. The west unit staff opted to use a fixed schedule as did ICU and the Secure Medical Unit. This is something that we are still talking about working on massaging out the kinks.
The overpayment grievance has yet to be resolved. More information for those members who have been asked to pay back. We will be arranging a meeting after the AGM.
There have been multiple changes in HR, even so we have managed to deal with several issues using the informal process: 
    Vacation denials; the communities are still having issues with this  
    Overtime not awarded appropriately
    Denied family leave-after much discussion this was granted
    There were several discipline/fact-finding situations that cropped up this year – we managed to help the Corporation to understand their planned discipline actions were …flawed.  
Acts of violence are affecting our members on a semi-regular basis. A slow response to reorganise the workplace violence prevention program primarily due to the multiple personnel changes in HR and OH&S. The Corporation states they are working on a plan to revamp the workplace violence prevention program.

The occupational health and safety consultant and the risk manager are no longer employed by the Corporation. Time will determine the impact of these vacancies. 

We have 4 new stewards this year from the Group, namely Kathleen Chapman, Kamira Potter, Mike Symyrozum, and Stephanie Tremblay. Lynn Cheverie elected as secretary at last years AGM, needed to step down for personal reasons she has also given up her stewardship. One new steward from the Branch, Mary Hughes, she works in Environment and climate change Canada.
Union Management Consultation (UMC) consists of the PIPSC executive and/or designated stewards and management. This group meets at least quarterly and discuss issues that affect our members it is an opportunity to share information related to how policy or practice broadly effect our members. This may include operational issues that haven't been resolved at a departmental level. What we don't discuss are issues related to employee performance grievances or discipline, or collective bargaining. We may discuss issues related to the collective agreement, but these discussions aren't binding. Issues that have been discussed include 
   OH&s committee structure and attendance, 
    operating room changes. 
    RNs working 24hr shifts, 
    Stat holidays and the missing ST1's 
    union leave and pensionable time, 
    community hospital concerns and 
    risk monitor trends.   
The Joint Consultation Committee (JCC) has only managed to meet once this year. This committee is made up of members of PIPSC, PSAC and management. The terms of reference speak to a quarterly meeting; however, this has been found to be difficult to organize all the parties both union and management. There is discussion around the LPN scope of practice and expansion of LPN's into the perioperative area. Rest assured we as the union representing Registered Nurses are fighting to retain any position that belongs to PIPSC and no RN will be displaced.   A bit of good news from the JCC, we will be receiving a rebate on our long-term disability payments.  (data sheet is appendix A in the AGM package).

UMC/JCC minutes are available on Share Point.
For those of you that may not understand the PIPSC union structure most of the union members in Canada work directly for the Federal government and negotiate with the Treasury Board for their collective agreements. We on the other hand are considered separate employers and we bargain directly with our employer the Yukon Hospital Corporation. Being part of the separate employer group within PIPSC puts us in a position not unlike David and Goliath, when we want to bring issues forward to the union. In order to give the separate employers a larger voice the separate employers group (SEG) meets quarterly in Ottawa where we discuss issues that affect us, look for trends, and move issues forward to the Advisory Council. 
The Advisory Council (AC), consisting of all Group Presidents and Consultation Team Chairs, deals with matters referred to it by the Board of Directors, the Executive Committee or Group Executives. The AC coordinates the Institute's collective bargaining strategy and is responsible for Professional Employees/Senior Management Consultation. One member of the AC is elected to the Board of Directors.
One of the topics recently discussed at the AC, was psychological health in the work place. This is very timely for us as we move towards collective bargaining. We will work to include psychological health, support and treatment in the next collective agreement. Information was presented to us from the Federal Public Service Centre of Expertise for Mental Health. Included in your package Appendix B is a hyperlink to their website as well as some other related websites for those of you who are interested. 
We will be heading to the bargaining table starting June 10,2019. The negotiator that Ottawa has assigned us is Cara Ryan. We have consulted with the membership on issues related to bargaining through a survey. 
Whitehorse hosted the Regional Council executive meeting on the 28th of November. The regional council executive participated in a meet and greet with the YHC Group member at Whitehorse General Hospital early on the morning of the 28th. 

Later that morning;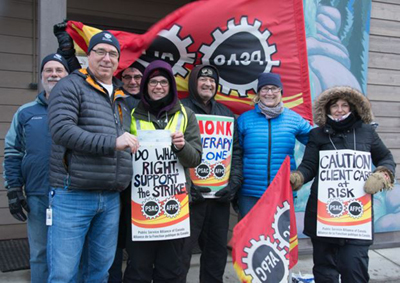 Local Yukon Employee Union (YEU) members were on strike at Many Rivers counselling service. On a very windy, cold street in Whitehorse, in support of our sister union, PIPSC presented a $1000.00 cheque for the YEU strike fund. The strike was settled after 3 months of strike action by these dedicated union members. Shortly thereafter the counselling service was closed, and all the members were laid off. Shameful example of union busting. 
A lunch time meet and greet was held at a local restaurant with the federal members. 10 members of the Branch attended. 
Still later that day;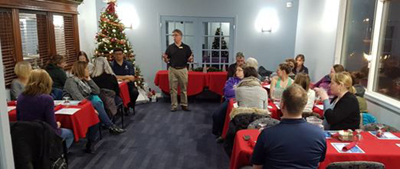 The members of the regional executive attended the concurrent Yukon Branch/ YHC group AGM. The members of the executive were dispersed through out the room to dine with the members of the Group and Branch. They were asked to canvas the members about general union and bargaining issues. The over-all feedback from the members of the Group and Branch was that this was a valuable exercise. They reported back that while it was nice to meet the executive and our ERO John Ehinger, they were able to discuss issues and felt that their issues are being heard by those who maybe able to make a difference.
As I write this, I am making plans to visit Dawson city as YHC Group President. The YHC Group has a large geographical footprint and its members are spread throughout the 3 hospitals of the Yukon. One in Whitehorse, Dawson and Watson Lake.  To this point in time there has never been a physical visit, specifically for union business to the communities. My hope is to be able to meet face to face with the members to discuss their issues on their home turf. Also plan to meet with the Director of Patient Care in Dawson while in the community.

I plan to visit Watson Lake later this year. 
Since March of 2019 I have been a member of a Task Force looking at the Board of Directors initiative called Professionals Canada. We are working through issues that have arisen out of the 2018 PIPSC AGM. The plan is to produce a report for the AC meeting in August.
Respectfully submitted by 
Michael Paré
Yukon Branch/YHC Group President