2017 F-6 Recognizing the Work of Stewards
Briefing note to the PIPSC Board with recommendation's on
2017 F-6 Recognizing the Work of Stewards
Prepared by Gordon Bulmer a/NCR Director
Table of contents
Contents
2017 F-6 Recognizing the Work of Stewards.
Current PIPSC awards and recognition structure.
President's Achievement Award.
Updated Steward Recognition program.
2017 F-6 Recognizing the Work of Stewards
Sponsor: NCR Regional Council | Disposition: Carried
Whereas the employer usually does not recognize union work when they hand out workplace awards; and
Whereas many deserving Stewards are not being recognized for the work they do on behalf of the members and PIPSC; and
Whereas the Steward of the Year awards are given out on a geographical basis by Region, with no regard to the numbers of Stewards in a particular Region (specifically, that the NCR can only ever have one Steward of the Year, despite having a much larger population of Stewards compared to some other Regions); and
Whereas many Stewards are engaged in some of the most difficult union-related tasks, such as bargaining with the employer, and receive little or no formal recognition from PIPSC because much of
their effort is expended in Groups, Sub-Groups, Consultations and in various Committees, rather than in Branches and Regions; and
Whereas there is little consistency from year to year in the awarding of small gifts of appreciation to those who do win the awards available through PIPSC; and
Whereas it isn't clear what awards or gestures of thanks are being given out locally by constituent bodies that vary greatly in size and budget; and
Whereas the submissions of names and justifications for awards are often difficult to obtain from our busy Stewards; and
Whereas many long-serving and active Stewards often retire without any recognition or thoughtful gesture for their years of dedicated service to the members; and
Whereas constructive changes to the way awards are handled in PIPSC can be seen as a personal affront for some of those who have received our existing awards in the past;
Be it resolved that the PIPSC BOD seek members' advice on how to improve the current method of recognizing the work our Stewards do, and that they propose a motion to the 2018 PIPSC AGM on any suggested changes.
Resolutions Sub-Committee Comments – Depending on the manner in which this resolution would be implemented, the cost could be up to $50K for a standard committee.
Current PIPSC awards and recognition structure
PIPSC National awards
Citation Certificate recognizes a PIPSC member or employee for outstanding service to Constituent Bodies, Committees, and Consultation Teams or to the Institute as a whole. This certificate may recognize service over a period of time or service for a particular activity.
Institute Service Award recognizes outstanding service by a PIPSC member or a PIPSC employee over a long period of time or outstanding service of a shorter duration which results in a contribution of enduring value to the Institute.
Life Membership is a onetime award that recognizes outstanding service of enduring value to the Institute by Regular and Retired members of the Institute who have demonstrated leadership over a period of at least ten (10) years.
President's Achievement Award recognizes an individual who has demonstrated a high level of commitment in promoting professionalism and/or an outstanding achievement in the nominee's profession.
The applicable PIPSC By-laws and Nomination Forms are found on the Institute's website.
Steward of the year is the opportunity for each Region to honour one steward who has rendered conspicuous service to the Institute and Members at large.
Regional Awards
Atlantic
Awards Committee
Terms of Reference
1) Purpose
The purpose of the Regional Awards Committee, hereafter referred to as the Committee, is to assist and facilitate the implementation of the BC/Yukon Region Executive of the Year, Steward of the Year and Steward of Distinction awards.
Quebec
Steward of the Year Recognition Award
The Quebec Regional Council recognizes the role of the Steward in the organization as an important liaison between members, their Union and the employer.  In addition to the recognition of Steward of the year, the Quebec Regional Council reserves the right to award Certificates of recognition to runners up of the Steward of the year.
Ontario
Steward of the Year Recognition Award
The Ontario Region Council recognizes the role of the Steward in the organization as an important liaison between members, their Union and the employer.
Purpose: To recognize the contributions of Ontario Region PIPSC Stewards active in their workplace, who have gone "above and beyond" their duties to assist members and have made an extraordinary contribution to the Institute.
Prairie/NWT
Stewards play a critical role in our organization. These volunteers act as liaisons between members, the employer, and our union.
The Prairie/NWT Regional Executive recognizes that our members benefit from the many dedicated stewards who work in our region. The size of our Region and the number of work places that are served by our stewards, make it challenging for the Executive and the Awards Committee to be aware of all of the work our Stewards perform.
Not only are Stewards who are worthy of this award professional and diligent in their efforts, but they are required to abide by confidentiality rules. And many of these outstanding people work in the background to resolve issues before they become big problems.
That is why we need your help to recognize those individuals who devote time and energy into making our workplaces better. As a member, you are more aware of the work that Stewards do in your workplace on behalf of our PIPSC members.
We welcome your nomination of a Steward that you feel is worthy of an award.
We would like to recognize these exemplary Stewards at both a Regional and National level. Up to three awards may be presented at the Stewards' Council. Two of the awards are reserved for Steward activities: current service and career-to-date contributions. A third award is available for services rendered as an elected official or as a committee member. The Prairie/Northwest Territories Steward of the Year will receive their award at the PIPSC AGM.
BC/Yukon
In the BC/Yukon Region there are currently three awards presented: Executive of the year, Steward of the Year, and Steward of Distinction awards presented at the time as Steward of the Year.
As of 2011 there has been an Awards Committee established to maintain transparency and fairness to the selection of recipients of these awards. This committee consists of a previous award winner, a President of a Branch, and a member of the Regional Executive. This committee will assess and validate the nominated members. They can consult with the nominators, EROs, fellow workers, etc to assist in their decision making. A ranked list of potential award recipients will be submitted to the Regional Executive for final selection.
Stewards of Distinction will normally be chosen from the nominations of the Steward of Year.
National Capital Region
Extract from the NCR Awards policy
 P1.1.1 The NCR Awards Committee shall be responsible for administering the:
NCR "Unsung Hero" Award
NCR Steward of the Year Award
NCR Executive of the Year Award
NCR Citation Award* (name to change)
Making Recommendations to the NCR Executive of PIPSC members who should be nominated for:
a PIPSC Citation Certificate,
an Institute Service Award or
an Institute Life Membership
The Committee may recommend individuals for inclusion in any award consideration without prior nomination.
The Committee may announce runners-up to the Award and present a suitable award to the runners-up
Steward recognition program
Membership section of PIPSC maintains our current recognition program which includes magnetic name plates for each new steward and years of service pins given out in each region yearly to acknowledge years of service.
The current program is over 15 years old with the latest addition be the name plates added about 10 years ago.
The current pins etc. are not very eye catching and could use an update
Steward name tags ordered in 2017 - 201
In 2017 we gave out
86 - 5 year pins
71 - 10 year pins
20 - 15 year pins
7 - 20 year pins
2 - 25 year pins
In 2016 we gave out
111 - 5 year pins
51 - 10 year pins
29 - 15 year pins
5 - 20 year pins
2 - 25 year pins
Other Unions
Public Service Alliance of Canada (PSAC)
At a national level the PSAC provides new stewards with visibility items, but does not have that I can find a years of service recognition program such as ours
At the component level individual components have Achievement and Life member awards.  
Canadian Association of Professional Employees (CAPE)
Cape has no steward awards or recognition processes of any kind, a draft policy on such recognition was developed a few years ago but never implemented.
Association of Canadian Financial Officers (ACFO)
ACFO has no steward awards or recognition with the exception of a yearly meeting of all stewards here in Ottawa.
Observations
PIPSC is doing significantly more than our Comrades in the other large public service unions.
The processes behind both regional and national awards seems to be not well understood by members
The mover of the original motion was contacted directly to ensure their views and concerns were understood and addressed, they declined to participate.
The CS group is conducting a formal survey on this topic Guy Abel has agreed to share those results.
Recommendations
Presidential Recognition
Recognition of regular  stewards by the office of the president as an ongoing event linked to the regional stewards councils;
Depending on the event the president should host a coffee or breakfast meeting of both the newest and most senior stewards in each region in attendance at the council;
Participation should be limited to 10 to 12 max to allow for maximum engagement with the President
National Awards
The National Awards do not seem to be very well know or understood, continuing to advertise them and to request nominations from the regions on a regular basis.
These awards the processes for application and the recipients need a space on the website.
Development of online application forms to facilitate the nomination process.
Regional Awards
I would encourage the regions to review what the other regions are doing with regard to Steward Awards and add to what they are already doing where appropriate.
Updated Steward Recognition program
An update of the program would seem to be in order.
Update the service pins to show the years of service more clearly[1].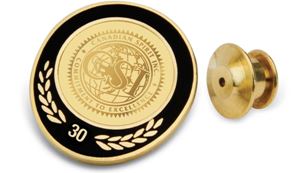 The current silver and blue name plates could be updated.

Name plates that included years of service could replace the lapel pins.
Recognition pins should be developed for all of the national awards including Steward of the Year as a wearable symbol of the honor.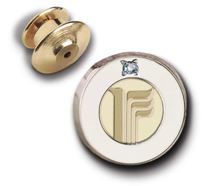 All pins and name badges used as awards should come in a presentation box and include a note from the President specific to that award.
Professional PIPSC Ties, Scarfs and a Pad folio should be available upon request to new stewards and available every 5 years to all stewards to allow then to be visible and professional in the office.[2]
---
[1] The images included are from the Canadian Spirit web site as examples only  http://canadianspirit.com/
[2] Samples of both a Tie and a scarf are included separately