Awarding of two Legacy Cups
PIPSC President and Legacy Foundation Chair Jenn Carr thanked the members in all the Regions for their fundraising efforts and contributions to the Legacy Foundation.
At the 2014 AGM, we launched a friendly competition among PIPSC Regions to see which Region could raise the most money per capita for scholarships during the year.
The winning Region would earn the "Legacy Cup" plus an extra scholarship for a student in their Region.
Thanks to the members of all of the Regions for stepping up and contributing generously to this worthy cause.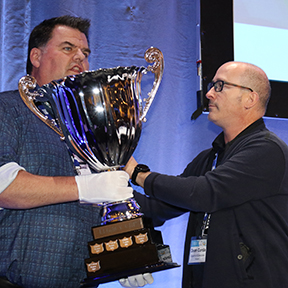 President Carr and Director Stacy McLaren presented the Legacy Cup to Dean Corda, Interim Director of the BC/Yukon Region.
On behalf of his Region, Dean challenged the other regions to try to raise enough money to take the cup away from the BC/Yukon Region at the 2023 PIPSC AGM.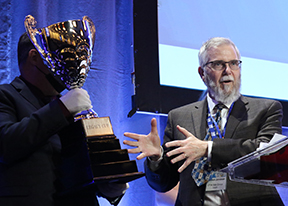 For the first time, the Legacy Cup was awarded to a bargaining group --  the CFIA-S&A -- for raising the most money in athe Bargaining Group competition. Fred Jamieson, President of the CFIA-S&A Group accepted the Legacy Cup on behalf of his group.  An extra scholarship will be awarded to a CFIA-S&A member's child in 2023. 
We are making a difference in the lives of Canadian youth. They represent the future of this country.
Join us so we can be "Better together."
For more information, visit www.pipsc.ca/legacy or email scholarship@pipsc.ca.