First Nations Elder welcomes PIPSC AGM Delegates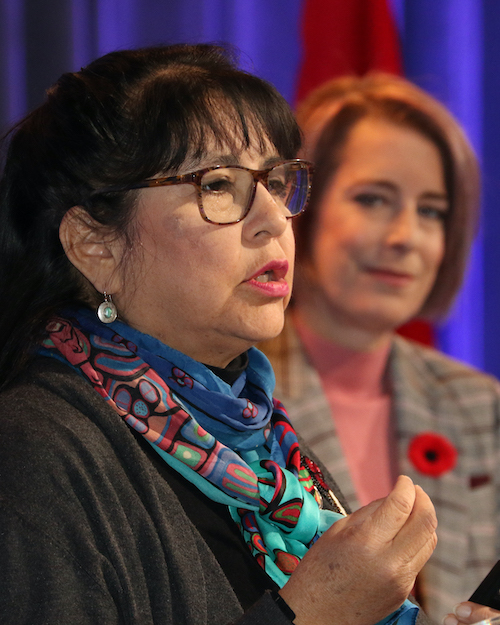 For the first time at a PIPSC AGM, a First Nations Elder, Verna McGregor, officially welcomed PIPSC AGM delegates to the unceded territory of the Algonquin Nation. 
By offering a pouch of tobacco, one of the four traditional sacred medicines, President Daviau asked Elder Verna McGregor to welcome PIPSC to the Algonquin Territory and open the gathering of PIPSC members with her words of wisdom.
Verna is from the Algonquin Community of Kitigan Zibi Anishinabeg, some 120 kilometres north of Ottawa. 
Following studies in economics at the University of Ottawa and in marketing management at McGill University, Verna worked in the banking and real estate sector. She returned to her home community to serve as an economic development officer, overseeing a number of successful projects at Kitigan Zibi.  
Verna is also a former National Coordinator for the National Aboriginal Circle Against Family Violence, an issue that's close to the hearts of PIPSC members. 
An an elder, Verna has remained firmly grounded in her community and nation. She has been a spokesperson and representative of the Algonquin Nation at a number of events including being an advisor in the creation of an exhibit with the National Gallery of Canada, where PIPSC members work as curators.