President Debi Daviau introduced the Board motion to create Professionals Canada:
Therefore be it resolved that the Professional Institute of the Public Service of Canada carry on its 100-year tradition of protecting and enhancing the rights of professional workers through the establishment of Professionals Canada.
Eddie Gillis, Chief Operating Officer presented the business plan for Professionals Canada.
Eddie reminded the delegates that the Institute's purpose as a union has been summed up in 10 words:
Building community to act collectively to improve our members' lives.
Building community is what Professionals Canada aims to do -- building a community of professionals who are currently un-unionizable in the traditional sense, because of the barriers that legislators and employers have set up.
The result of the changes in the labour market is greater precarity. Greater insecurity. Lack of benefits. Undermining of labour rights. And a race to the bottom.
That's why the PIPSC Board decided to look at expanding our services to include those who are currently un-unionizable. To figure out ways of expanding our horizons.
Who are these professionals in precarious working conditions? Workers in non-traditional work environments. Professionals like PIPSC members, but without the benefit of permanent employment in established enterprises like the public service.
This new community will include both the employees of small and medium sized enterprises as well as workers who are self-employed. They lack health benefits and income security; they move from employment to employment; they have nowhere to turn for professional advice and they have no collective voice.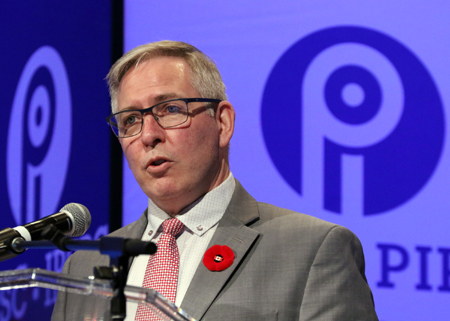 Currently these two groups of workers number in the hundreds of thousands and they're growing. These non-unionized workers have common experiences that a labour organization is best to address.
What is Professionals Canada?
It will be a labour organization, set up as a separate entity from PIPSC. It will be a community for non-unionized professionals.
A place to connect, share resources and find the power to stand up together.  It will be a community where professionals pool their resources and address their common challenges: lack of benefits; lack of advice; lack of a voice to advocate on their behalf to employers and governments.  All under a community, like PIPSC, powered by members who stand up for each other.
Professionals Canada will be a separate entity from PIPSC, and as such its members will not be involved in the affairs of the Institute. The organization will be governed by a board of directors made up of representatives from the Institute Board, as well as expert advisors from sectors most aligned with the work of non-union professionals in the private sector.
What are some of the benefits for PIPSC?
The Institute will have a new member base in a rapidly growing sector. Its influence will be enhanced.
If the AGM approves the establishment of Professionals Canada, the target launch date would be February 2020 – the 100th anniversary of PIPSC.