The corporate shadow public service
Who are Canadians paying?
Canadian companies are not represented in the federal government's shadow public service. The top five largest IT contractors – Veritaaq, IBM, S.I. Systems, Randstad, and Modis – received nearly one-third of all the money spent on IT outsourcing by the federal government between 2011 and 2018. In total, these five companies received more than $2.4 billion in contracts for IT consulting.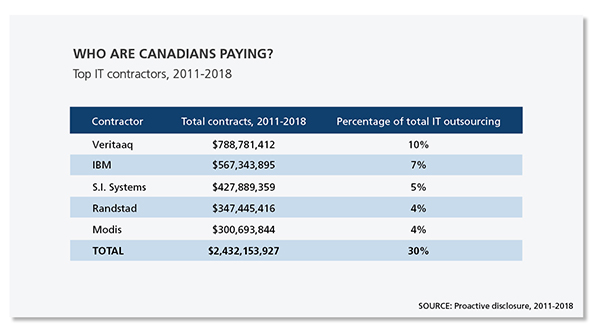 Four of the top five IT contractors are subsidiaries of multinational corporations headquartered outside of Canada.
Veritaaq sold its majority stake to Experis in 2015. Experis is a US-based company under its parent company, The ManpowerGroup – the third-largest staffing firm in the world.
IBM Canada is a subsidiary of the global tech giant IBM Corporation.
Randstad is a Dutch multinational corporation and the second largest staffing firm in the world.
Modis' parent company, the Adecco Group, is a Swiss multinational corporation and the largest temporary staffing firm in the world.
S.I. Systems Ltd is headquartered in Toronto and is the only Canadian company in the top five.
The reputation we rely on
While these companies have received billions of dollars in tax revenue from the federal government, some have been found to actively avoid paying taxes. Not only was IBM behind the failed Phoenix pay system, but eight of its subsidiaries within their global labyrinth were also named in the Paradise Papers – a 2017 leak of documents related to offshore investments in tax havens. In 2014, it was reported that IBM held 31 subsidiaries in tax havens. Similarly, the Manpower Group, the parent company of Veritaaq, was also named in the Paradise Papers and holds a total of 35 subsidiaries in tax havens around the world.
Rather than investing in public servants, government decision-makers are choosing to rely on corporate entities where openness, effectiveness and transparency in government are lost.
Read PIPSC's policy recommendations to stop outsourcing and build an open, effective and transparent public service.