PIPSC NR Group Newsletter
March 2018
Hi All,
Spring is upon us, with renewal for all. Our NR Group has also been renewed, both with our contract, as well as our elected NR Executive.
BARGAINING NEWS
Yes, we finally got our contract signed. Even though we had agreement, and ratification last year, we understand that translation difficulties prevented the final version from being signed by Treasury Board until January 2018. A Memorandum of Agreement on Employee Wellness Support Program was adopted as part of the ratification; there were no changes to the previous sick leave provisions.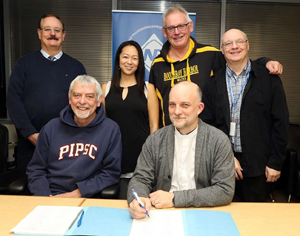 Again much thanks go to our very hard working 2014 / 2017 Bargaining Team
Top L to R: Pierre Richard, Shirley Tso, Tim Kirkby, Pierre Ouellet (our PIPSC negotiator)
Bottom L to R: Geoff Kendell (NR Group Bargaining Chair), Yves Cousineau (NR Group President)
Missing: Randy Dhar, Jan Wentzel, David Young
The Agreement includes provisions for both Sick Leave and Workforce Adjustment, which were previously negotiated at separate tables with NR representatives (Jennifer Carr & Dale Hudson for Sick Leave & Hugo Buttau, for Workforce Adjustment). If you would like to have a member of the National NR Executive come out to your NR SubGroup, to explain our hard won contract improvements, please call or email any of our National Executive Lunch and Learn presentations are also available, you just have to make a request.
Unfortunately, as our contract has a four year term (which we tried to change), it will expire Sept 30 this year. So we are now preparing for the next round of bargaining, and are assembling a new 2018 NR Bargaining Team; more to follow. Negotiations for the Employee Wellness Support Program (EWSP: formerly Sick Leave) are currently under way with our employer. Information on the progress of negotiations can be found at: www.pipsc.ca/news-issues/sick-leave
You should have received your retroactive pay by the end of December 2017, and we will be providing a spreadsheet calculator to allow you to verify the approximate value that should have been due.
NR Election
Yes, your NR Executive has also been renewed. Following our NR Election called in December 2017, and closed on Jan 10, 2018, all incumbents were re-elected. Congrats to Glen C. Schjerning, Jennifer Carr, David A. Young, Pierre G. Richard, Dale Hudson, and Geoffrey Kendell. They join the remainder of the Executive who are in the second year of their terms.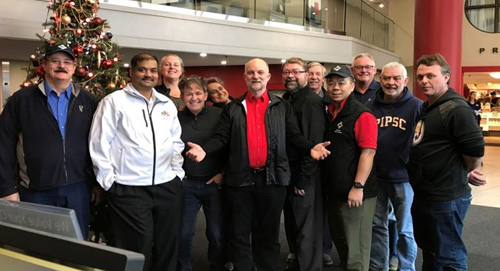 L to R: Pierre Richard, Asif M. Mohammed, Jennifer Carr, David Young, Lynn Mayes, Yves Cousineau, Hugo Buttau, Dale Hudson, John Eng, Tim F. Kirkby, Geoff Kendell, Glen C. Schjerning; Missing: Janot Alain
Don't feel left out if did not vote in the 2017 NR elections; as per our Group Bylaws, only NCR (two positions), BC / Yukon, Atlantic, Quebec (one position) Regions were up for election. The remaining Regions will have elections in 2018.
Following the NR elections, your 2018 NR Executive held their first meeting on Jan 27. At that meeting we selected officers from the elected Regional representatives for the following positions on the Exec:
President: Glen C. Schjerning  Vice-President: Asif M. Mohammed
Secretary: Dale Hudson Treasurer: John Eng
Chief Steward: Janot Alain Communications Coordinator: Hugo Buttau
Sub-Group Coordinator: David A. Young Bargaining Coordinator: Yves R. Cousineau
By-Laws Coordinator: Pierre G. Richard Member: Geoffrey Kendell
Member: Tim F. Kirkby
Membership & Delegate Selection Coordinator: Lynn Mayes
Employee Wellness Support Program Representative: Jennifer Carr / Dale Hudson
Thanks to our Elections Committee Lynn Mayes, Asif Mohammed, Tim Kirkby and Janot Alain.
And now a message from our newly elected NR President:
Good Day All,
Thank you to all concerned for the support that has resulted in me being elected as the President of the NR Group. It is a responsibility that I take very seriously, and I hope to prove myself worthy. Looking forward. There is lots to do. Having just finished an extended round of collective bargaining, we now immediately head into the next round. There are hints that this next round may go quickly with a focus on pay. The way ahead is yet to be determined. In a "roughly" parallel process, we will be addressing potentially replacing "Sick Leave" with an "Employee Wellness" Program. Your executive will need to work with all members on this process. Phoenix. Bill C-27 and threat of "pension reform". Contracting Out. We live in interesting times. If you would like to discuss any of the above, my home phone number is 613-234-1980. I am here to serve.
Take care, Glen Schjerning
With the contract done, the elections done, bylaws in place, we are now off to do the whole thing over again. The next order of business is to get ready for the next round of contract negotiations. Our Exec has selected your 2018 Bargaining Team, and will confirm the final touches at our next meeting in March.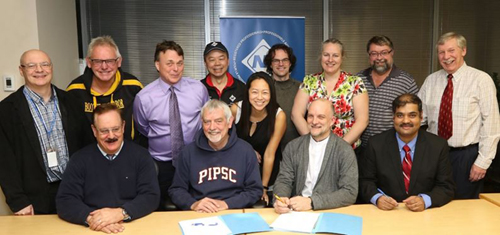 NR AGM
Along with bargaining, one of the most important duties of the NR Exec is to hold the NR Sub Group Presidents Meeting and the NR AGM. In order to leverage our available resources, both meetings will be held together again this year.
Our SubGroup Presidents Meeting will be held June 8 in Gatineau; this is where the elected president of your local subgroup will meet with all the other SubGroup Presidents, to bring your issues to the Executive. Our Sub-Group Coordinator David A. Young will be organizing & hosting this event; thanks Dave.
The NR AGM will follow the SubGroup Presidents meeting on June 9; this is where your Executive will receive its mandate from the NR Members. If you would like to attend as a Delegate, or have a proposed NR Bylaw Amendment, you can find details on our AGM web page. Our By-Laws require 20 days for any resolution and 60 days for resolutionsto amend our By-Laws.
NR Bylaws
Speaking of NR Bylaws, your 2017 ByLaws Committee (Hugo Buttau (chair), Pierre Richard, and Don Burns) met for two days in January, to update our Groups' Bylaws to include bylaws passed by NR AGMs, but not yet submitted to the PIPSC Bylaws Committee for approval. The final product has been submitted, and is now awaiting approval PIPSC approval. In order to facilitate keeping our Group Bylaws up to date, you will note that that our Executive has now included a position on the Executive of By-Laws Coordinator; congrats Pierre Richard, and thanks to the many contributors who have assisted us in getting to this point.
Know your Contract
Along with Spring, comes the end of the Fiscal Year. Be sure to take advantage of our newly won contract concessions; Effective on April 1, 2018, Clause 17.20b is amended to revise the previous Personal Day + Volunteer Day into two personal days. These days are yours to use (or lose, as they are not carried over annually).
Members in the News
At the PIPSC 2017 AGM, John Eng our NR Group Treasurer was selected as was selected as Steward of the year. Way to go John!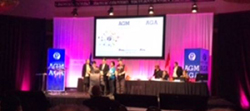 It's National Engineering Month.
Our own NR Exec Member Tim Kirkby, is a PEO Councillor and participated in the Professional Engineers of Ontario officially proclaiming the first annual Professional Engineers Day in Ontario, the first celebration of its kind in Canada. Professional engineers working in all disciplines, sectors and regions of the province were formally honoured by the Legislative Assembly of Ontario.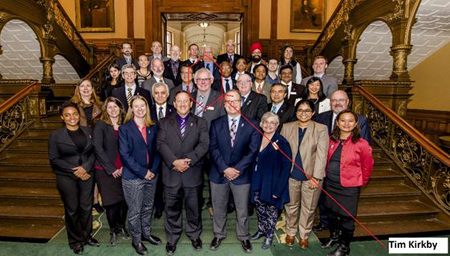 Our Tree
You may remember that at our 2017 NR AGM, we planted a maple tree to commentate Canada's 150 anniversary, and our Group's meetings in St. John's. We have had an update from Dale Hudson, our intrepid Group Secretary. Dale confirmed that our tree remains healthy and ready for Spring. If you find yourself in St. John's please check out our tree & report back +.
As always, on behalf of your NR Exec, thanks for taking the time to stay informed on our Group.
We are Better Together
Hugo Buttau, P. Eng.
PIPSC NR Group Communications Coordinator