$1,500 Information Technology Scholarship
October 4, 2018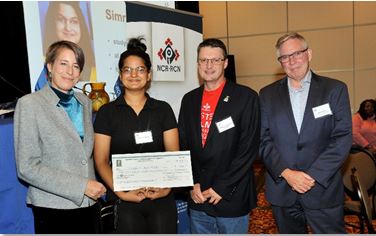 IT Scholardship 2018 (left to right): President Debi Daviau, Simrun Kaushal, CS Group VP Pierre Touchette, COO Eddie Gillis
It is a great honour and privilege to announce the laureate of the 2018 Information Technology Scholarship of the Professional Institute Legacy Foundation funded by the CS Group: Simrun Kaushal.
Simrun is studying Computer Science at the University of Ottawa. Her father, Sanjiv Kaushal, is a member of the CS Group.
Simrun has received awards for her leadership and humanitarian work with "Free the Children" and Women's Empowerment in Kenya. Simrun has served on the CHEO Youth Council, the Actua STEM Youth Council, and with the Youth in Policing Initiative. 
The Legacy Foundation illustrates our commitment to the coming generation of professionals. Its primary goal is to invest in the education of deserving young Canadians.
To learn more about the Foundation, how to donate or how to apply for a scholarship, please visit the website: http://www.pipsc.ca/portal/page/portal/website/legacy  
Congratulations to Simrun and we wish her continued success in the future.
Guy Abel
Stewards Officer
CS Group