Commerce and Purchasing Group Gatineau Subgroup
Annual General Meeting 2021, November 17th, Hotel Lac Leamy Banquet Facility
Agenda and Draft Minutes, Plus Election Report
Call meeting to order at 5pm…Peter Gabriel – President and Chair
Introduction of current Subgroup Executive Members
Approval of the Agenda – Moved by Peter Gabriel, second by Ray Paquette, Carried.
Indigineous Territory Land tribute – Ray Paquette – Gatineau Subgroup Vice President
Gatineau is located on the unceded territory of the Algonquin, an Anishinaabe people who have occupied the entire Ottawa watershed for thousands of years. One of the most important and sacred places for the Algonquin is Chaudière Falls on the Ottawa River in Gatineau.
Equality Statement at 5:05pm- Subgroup VP Ray Paquette and also Human Rights Chair - PIPSC NCR
PIPSC Equality Statement
Union solidarity is based on the principle that all union members are equal and deserve mutual respect. Any behaviour that creates conflict prevents us from working to strengthen our solidarity and the labour movement.
As professional public servants and unionists, mutual respect, cooperation and understanding are our goals. We neither condone nor tolerate behaviour that undermines the dignity or self-esteem of any individual or creates an intimidating, hostile or offensive environment.
Discriminatory speech or conduct which is racist, sexist, transphobic, or homophobic hurts and divides us. So too, does discrimination on the basis or disability, age, class, religion, language and ethnic origin.
Sometimes discrimination takes the form of harassment. Harassment means using real or perceived power to abuse, devalue or humiliate. Harassment is not a joke. The uneasiness and resentment that harassment creates, are not feelings that help us grow in solidarity.
Discrimination and harassment focus on characteristics that make us different, rather than those elements that make us the same. They reduce our capacity to work together for and with our members for better contracts, safe working conditions, and justice in both the workplace and society.
The Institute's enduring values, our policies and practices reflect on our commitment to equality. This Regional Council is a harassment free zone to ensure that the dignity and equality of our members is respected.
5) Moment of Silence 5:10pm, all rise and stand for a period for members who passed away, special mention for our former Subgroup Executive Valerie Nguyen - Peter 
6) Adoption of the Minutes 5:11pm of the previous Annual General meeting 2019 – A/Secretary Shaila Singh reviewed with AGM delegates, then moved to accept, seconded by Peter Gabriel. Carried.
7) No Business Arising from the 2019 AGM Minutes.
8) 2020 YE Annual Financial Report (no motion required) and Current 2021 Actuals (on table)  5:15pm- Gord Sanford -Treasurer
9) Approval of Budget 2022 by AGM Delegates 5:25pm- Gord to move, seconded by  RaHong Xu. Carried.
Proposed budget 2022 – on table
10) By-Law Amendments 5:30pm - Peter…moved by Peter Gabriel, second by Gord Sanford, motion Carried.
6.3 Term of Office The term of office shall be two (2) years. with the exception of the first election when the President, the Treasurer, and one-half of the Members-at-Large shall be elected for a two (2) year term. The Vice-President, the Secretary, and the remainder of the Members-at-Large shall be elected for a one (1) year term.
6.3.1 The President, the Treasurer, and one-half of the members-at-large shall be elected in the even-numbered years; and the Vice-President, the secretary, and the one half of the Members-at-Large be elected in odd-numbered years.
Procedure – 
(note- as per 10.1 These By-Laws may be amended at a General Meeting of the Sub-Group. Approval of proposed amendments requires a simple majority of those voting.)
11) Elections - 5:35pm
Elections Committee The Executive shall appoint an Elections Committee to receive nominations for positions on the Sub-Group Executive, and to conduct the elections. Any member of the Elections Committee who becomes a candidate in the election shall resign from the Elections Committee.
Election Committee - Gord Sanford - Chair, Margaret Bigras, Lynn Morris and Terry Sing.
Report of the Elections Committee 5:45pm ; Gord Sanford to give the Report. See Below at end.
12) Report of the Subgroup President 5:46pm - Peter - Welcome Back message to members!
13) No New Business - 5:47pm Peter Gabriel asked the AGM delegates.
14) Speech by Andree Doucet 5:50pm - Group President provided. update
15) Speech by Debi Daviau 5:55pm  - PIPSC President last speech to Gatineau Subgroup
(A special tribute will be given to Debi)
16) Motion to Adjourn AGM Business portion – Moved by Peter, Second by Olivia Leung. Carried.
Election Report provided by Gord Sanford, Election Committee Chair.
Election Results,  all for a 2 year Term, November 2021 to November 2023.
President – Peter Gabriel, Acclaimed
Vice-President – Ray Paquette, Acclaimed
Treasurer – Shaila Singh , Acclaimed
Secretary – Shruti Ravi, Acclaimed
Members at Large (7 position, all acclaimed)
Olivia Leung
Natalia Kim
Alex Lamoureux
Hong Xu
Nathalie Dagenais
Steven Lussier
Jean Bellec.
President Debi Daviau address the Subgroup Delegates.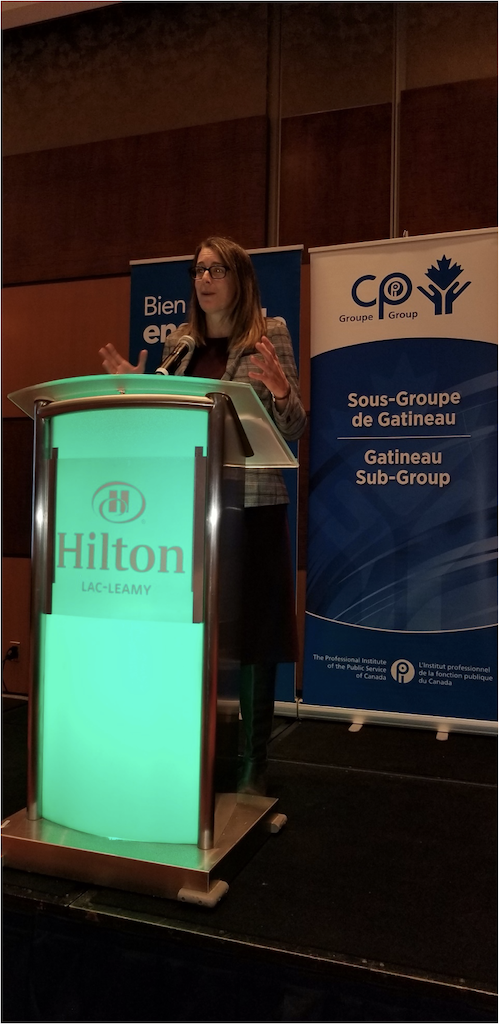 Peter Gabriel, Subgroup President, addresses the Delegates and announces Recognition of Service Award to President Daviau, along with CP Group President Andrée Doucet and Subgroup Vice-President Ray Paquette.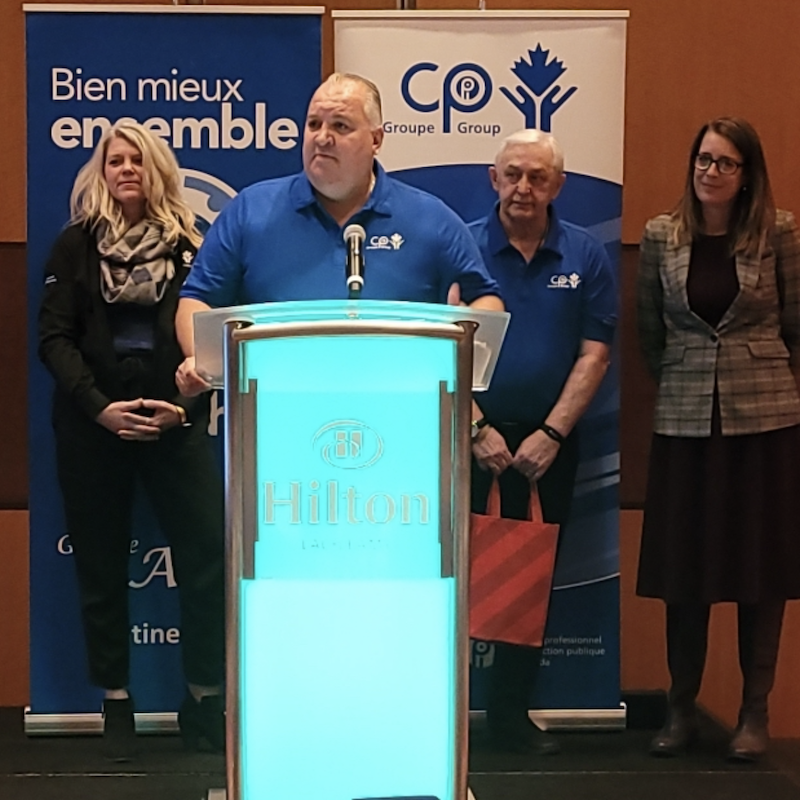 L-R: Peter Gabriel presents Service Award to outgoing Treasurer and now Retired Member Gord Sanford, along with VP Ray Paquette.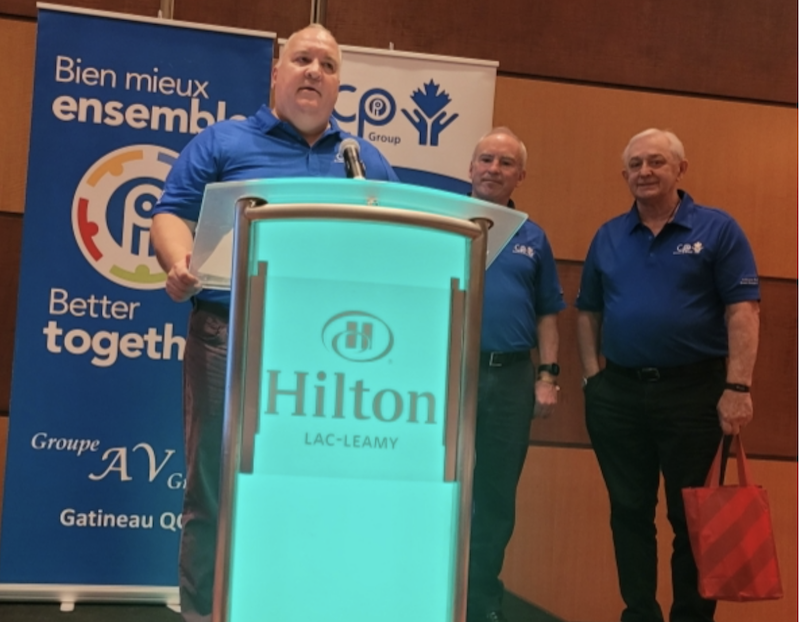 President Daviau address the at capacity delegates at Hilton Lac Leamy Banquet Hall, with 75 members in attendance.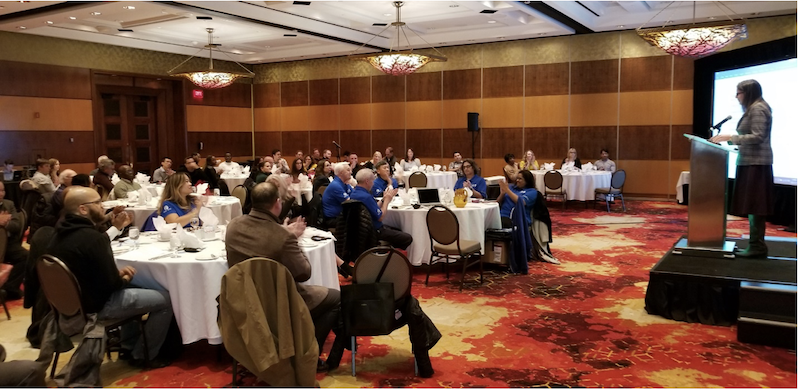 Left to Right: Alex Lamoureux, Ray Paquette, Andree Doucet, Shaila Singh, Debi Daviau, Gord Sanford, Olivia Leung, Lynn Morris, Peter Gabriel, Terry Sing, Margaret Bigras and Hong Xu.