From the President …
This has been a very eventful year as we finalized Phoenix compensation for AFS members and reached an AFS tentative agreement that will provide for wage and benefit enhancements through 2022. We've had some wins and losses at adjudication and progress is being made on replacing the Phoenix pay system for our members.
I would like to thank all of our AFS stewards and members for their support and for their dedicated service. Wishing everyone a safe, enjoyable and relaxing summer!
In solidarity,
Doug Mason,
AFS President
From the Editor …
Welcome to the our AFS Newsletter.  We hope that you enjoy this edition and look forward to receiving your comments and suggestions for future content.  This newsletter includes articles on the Collective Bargaining, Employee Wellness Support Program, Denial of Pay Increment due to Performance Management, Leave with Income Averaging Grievance Decision, Phoenix Compensation, AFS Presidents Meeting and AGM, Réal Lamarche Award, AFS Sub Group Bylaws, Proper Use of Social Media and a Fond Farewell.  The newsletter concludes with important upcoming dates and AFS contact information.
Manny Costain,
AFS Secretary and Newsletter Editor
Collective Bargaining
The AFS Bargaining Team exchanged proposals with the Employer in October 2018 and both parties explained their demands during the October 10th to 12th bargaining session.  The Bargaining Team met again with the Employer November 6th to 8th, February 12th to 15th, March 19th to 21st, April 30th to May 3rd, and May 22nd to 25th   The AFS Bargaining Team made several presentations to the Employer on issues such as flexible work arrangements, contracting out, split shift compensation and most significantly, pay.
Through the hard work of our AFS Bargaining Team and the PIPSC Central Table, a tentative agreement was reached late in the evening of Saturday May 25th for the AFS Group.
Economically the annual increases for all AFS members are 2.0 % plus a 0.8% wage adjustment effective December 22, 2018, 2.0% plus a 0.2% wage adjustment effective December 22, 2019, 1.5% effective December 22, 2020 and 1.5% effective December 22, 2021.  The accumulated increase is 8.26% over the four years of the contract.
There are also improvements to bereavement and family leave, shift work, discrimination and harassment as well as the introduction of leave with pay for victims of domestic violence
Members of the AFS Bargaining Team hosted ratification sessions during the months of June and July.  Voting was from July 25 to August 1 and we will sign once the employer completes their approvals.
Employee Wellness Support Program
While sick leave remains unchanged in our tentative agreement, work has proceeded on the development of the Employee Wellness Support Program (EWSP) that would replace our current sick leave regime. Information sessions will be held in the late fall or early spring once our work is completed. AFS members will have the opportunity to vote on adopting the new sick leave regime as a stand alone item, separate from other groups and unions.
Employer may not deny Pay Increment due to Performance
A decision was rendered recently on a Treasury Board grievance on a denial of a pay increment based on performance.  The grievance was won at adjudication at the Federal Public Sector Labour Relations and Employment Board (FPSLREB). 
The Board ruled that the Employer cannot deny a pay increment based on performance as pay increments are part of the collective agreement and not conditional on performance.  The Board further ordered that Treasury Board update their policies accordingly.
We have confirmed with CRA management that any outstanding grievances for our members for the denial of pay increments due to performance will be allowed and CRA's Terms and Conditions of Employment will be updated to delete any reference to the denial of pay increments due to performance.
Here is a link to the decision:
https://www.fpslreb-crtespf.gc.ca/decisions/fulltext/2019-f-7_e.asp
Leave not earned while on Leave with Income Averaging
A decision was rendered recently on a Treasury Board grievance regarding Leave With Income Averaging (LWIA).  Similar to the grievances filed by AFS members these grievances argued that while on LWIA they continued to receive pay meaning that they should accrue vacation and sick leave credits per the respective clauses of the collective agreement. 
The grievances were not successful at the FPSLREB.  While the adjudicator noted that the sick leave and vacation leave clauses were not clear and unambiguous, he did not find that the grievors met the burden of proof that the collective agreement was violated.
PIPSC legal has decided that they will not proceed with a judicial review and are recommending that the AFS grievances be abandoned.  CRA management has been advised that our
grievances will be withdrawn.
Here is a link to the decision:
https://pslreb-crtefp.gc.ca/Decisions/fulltext/2019-f-23_e.asp
Phoenix Compensation
An agreement was reached between the Treasury Board and most of the Public Sector Unions (only the Public Service Alliance of Canada opted out) to compensate public service employees for issues with the Phoenix Pay system.
Specifically, this agreement provides as a starting point, two (2) days of annual leave for anyone who worked in the public service in 2016-17 and an additional one (1) day of annual leave per year for those employed in 2017-18, 2018-19 and 2019-20, for a total of five (5) days for those employed since Phoenix was deployed, regardless of if or how they were affected by Phoenix. 
Those no longer employed in the public service, but who were during the timeframe above, can apply for reimbursement equal to that amount of leave.
The agreement also extends the existing process for claiming out-of-pocket expenses incurred as a result of Phoenix problems and creates a process for claiming additional costs including losses incurred as a result of having to cash in investments as a result of pay issues; losses associated with deferred RRSP contributions; costs associated with delayed severance or pension payments; or interest on loans, mortgages credit cards or other forms of debt.
In addition to this it allows for the reimbursement of sick leave for members who took such leave because of Phoenix and allows for payment of interest on delayed severance payments and pension entitlements or missing pay.  It does not preclude additional damages being sought for claims alleging discrimination including issues related to maternity, parental or disability leave.
Finally, it allows for claims related to consequences of lost occupational capacity, lost security clearances, bankruptcy or significant impacts on credit ratings and creates a process for claims related to mental anguish and trauma or other personal hardship.
The first (up to) four days of leave credits will be made available to employees by December 5, 2019 with the fifth day for fiscal 2020 being available by August 28, 2020.  The AFS Group has also received a written commitment from CRA that the (up to) four days credited in fiscal 2020 will not be included in the calculation of the vacation carryover limit at March 31, 2020.
For more information please click on the link below:
https://www.pipsc.ca/news-issues/phoenix-pay-system/8-things-you-need-to-know-about-phoenix-compensation-agreement
AFS Presidents Meeting and AGM
The AFS Sub-Group Presidents meeting and AFS AGM were held in Winnipeg beginning on Thursday June 6th.  Winnipeg was chosen to commemorate the contribution of the 1919 Winnipeg General Strike to labour and human rights in Canada.  For the first half day of the Presidents meeting, there was a presentation on the recent tentative agreement.  On Friday the Regional Representatives hosted break-out sessions to discuss regional issues and concerns with a plenary session to end the day. 
Friday night, AFS stewards met with our colleagues from the CS and CFIA S&A Groups at the Canadian Museum of Human Rights to see the exhibits on the Winnipeg General Strike and other exhibits showcasing the ongoing struggle for human rights.
On Saturday, the AFS AGM was held.  Doug Mason provided his president's report to the delegates and observers.  Prairie Regional Director Nancy McCune provided a report from the Board of Directors.  Chris Roach, as the Director of the Advisory Council and the Chair of finance provided an update from the Advisory Council and a report on the Institute finances.
A proposed resolution was debated in the afternoon and the day closed with executive and committee reports and new business. 
Réal Lamarche Award
The Réal Lamarche Award was created by the AFS Group in 2019 to be presented to those who have made an outstanding contribution to the AFS Group.  As its name implies the first recipient is Real Lamarche who was the first AFS Group President, and president of the AU+ Group prior to the creation of the AFS Group in 1999.  Réal is also a PIPSC life member for his contributions to the Institute.  Réal was integral to the AUs moving to PIPSC and he noted the significant contributions of our AFS Group to PIPSC as we know it today.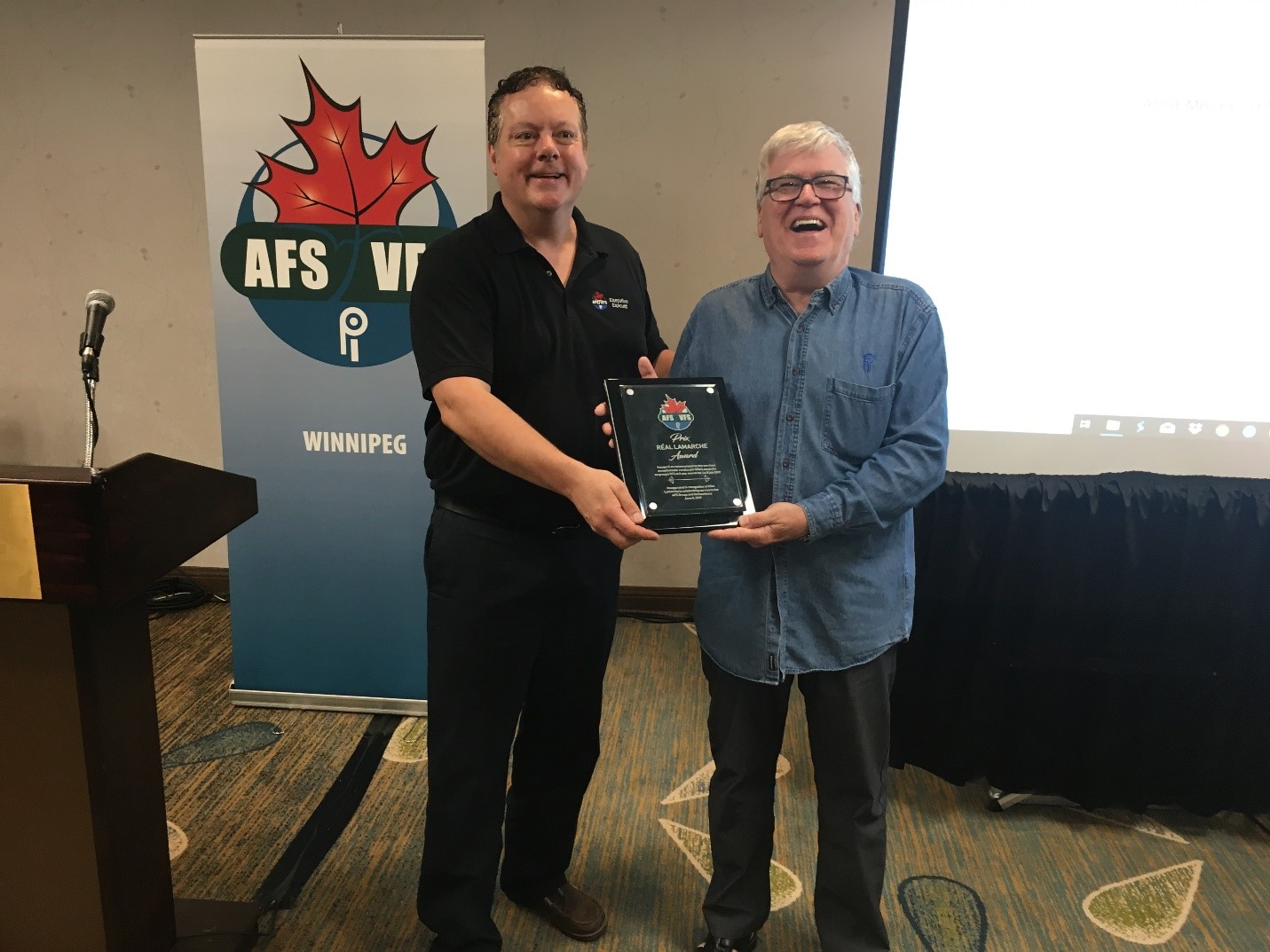 AFS President Doug Mason with Réal Lamarche
AFS Sub Group Bylaws
The AFS National Executive has created model sub-group bylaws for AFS Sub Groups to use as a template for their bylaws.  Sub Groups can choose to use these bylaws and make additional changes to them to suit their sub group.  Any amendments cannot however contravene the AFS Group bylaws, Institute bylaws nor Institute policies.
Should a sub group want to change their bylaws here are some steps that you may want take to ensure that the changes are valid:   
Send the proposed amendments to the AFS Bylaw Committee for review to determine if the proposed changes are consistent with AFS Group bylaws.
Send the proposed amendments to the PIPSC Bylaws and Policies Committee (BLPC) to determine if they are consistent with Institute bylaws and policies.  BLPC will also do an additional check of the AFS Group bylaws to ensure that those bylaws are respected.
These steps will save time and provide the sub group with the opportunity to correct any proposed amendments prior to presenting them at a sub group AGM.   Any amendments to sub group bylaws must be brought to the sub group's AGM for review, discussion and debate. 
If accepted they will then be submitted to the BLPC for a final review before being submitted to the PIPSC Board of Directors for adoption.
A link to the AFS Sub Group model bylaws can be found here:
https://pipsc.ca/groups/afs/model-afs-sub-groups-constitution-and-by-laws
Proper Use of Social Media
The Employer sent a recent email to all employees regarding the proper use of social media. 
Even if you do not identify as a CRA employee you are bound by the CRA Code of Conduct so you need to be careful with your comments and what to share on social media.  While you cannot control what others share via Facebook or other social media you must not put yourself in the situation where you it puts the Employer in a negative light.
Here are the don'ts from the Employer regarding posting on social media:
speak for the CRA unless you are authorized to do so
identify yourself as a CRA employee, as it could invite unwanted attention
disclose sensitive CRA information, including taxpayer information, business intelligence, and information about upcoming legislative changes, litigation, human rights complaints, settlement offers, or grievances
post photos of the workplace or CRA employees without CRA management approval or employee consent
make negative or offensive comments, such as racist, demeaning, hateful, defamatory, or discriminatory comments, about anyone, including CRA management or colleagues in accordance with the Values and Ethics Code for the Public Sector
post slanderous, libelous, or other illegal content
post material containing sexual content, nudity, profane language, or violence
plagiarize
post information that reveals where you are, what you're doing, or that you or your children are home alone
connect with, or accept "friend" requests, from people you don't know before validating their identity and authenticity
As you can see there are many limitations and in some cases it is not very clear.  Social media is a very powerful medium so we must be very prudent as to what we share publicly.
A Fond Farewell
Mr. Phil Choo, the BC/Yukon Regional Representative did not reoffer for the position.  Shockingly, he has chosen retirement.  During his time on the AFS Executive Phil was heavily involved in Occupational Health and Safety on the National Policy Committee as well as taking a lead role in in updating Job Hazard Analysis profiles for all CRA employees.  He resolved many Phoenix pay issues for AFS members. He was a valued member of the AFS Bargaining team, arguing for flexible work improvements and for all AFS members to achieve fair pay increases.
But the draw of cycling, golfing, staying close to home with his spouse and enjoying a quiet retirement outweighed the appeal of another term on the AFS Executive.
The AFS Executive wishes Phil Choo a long, happy, healthy and well-deserved retirement.
Important Dates
June – July 2019
AFS Ratification Sessions and voting
August 28-29
AFS Executive and Planning Meeting
October 24, 2019
National Union Management Consultation Meeting
November 7, 2019
November 8-9, 2019
Your AFS Group Executive
President:
Doug Mason
519-859-7192
Vice-President/ CS National Consultation Representative:
Mark Muench
613-407-7175
Secretary/CS Regional Representative:
Emmanuel "Manny" Costain
902-303-0850
Treasurer/Ontario Regional Representative:
Shawn Gillis
519-567-8983
Atlantic Regional Representative:
Chris Roach
902-315-1238
Quebec Regional Representative:
Steve Parent
514-709-5787
Headquarters Regional Representative:
Brian Hassall
613-883-2444
NCR IT Regional Representative:
Allaudin Alibhai
613-809-6453
Toronto Regional Representative:
Al Ravjiani
647-292-9643
Prairie/NWT Regional Representative:
Robert Trudeau
306-371-4412
BC/Yukon Regional Representative:
Simon Chiu
1-778-316-5680
PIPSC Staff Resources for the AFS Group
PIPSC National Office:
Local:  613-228-6310
Toll Free:  1-800-267-0446
AFS Negotiator:
Vance Coulas
Local: 613-228-6310 (extension 4745)
Toll Free: 1-800-267-0446 (extension 4745)
AFS Administrative Assistant:
Natalie Bélanger
Local: 613-228-6310 (extension 4734)
Toll Free: 1-800-267-0446 (extension 4734)