SP Executive Newsletter # 3
March and April have been very busy months for the SP Group, with meetings for Bargaining, the SP AGM, SP Executive meeting, Lunch & Learns, and a Western Zonal meeting for SP Sub Group Presidents. 
We hope you are finding ways to engage with your local SP Sub Group.  If you need help getting in contact with your Sub Group, contact information can be found on the PIPSC website: https://pipsc.ca/groups/sp/subgroups
Highlights from the SP AGM
At the SP AGM on April 1st we had updates on Bargaining from Bryan Van Wilgenburg, SP Group President, Enzo Barresi, SP Group Bargaining Chair, David Griffin, Negotiator, and David Yazbeck, Director, National Labour Relations, who stated "if we don't get cost of living then this is a pay cut".  The SP priorities for bargaining are clear, and we have full confidence in our bargaining team.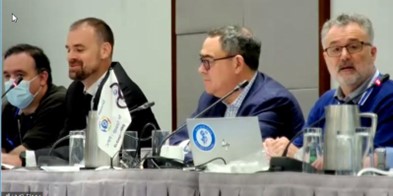 At the AGM we also heard from Judith Leblanc, Chief Steward, who is developing the steward framework and looking forward to supporting and working with Stewards across the country.
Judith Leblanc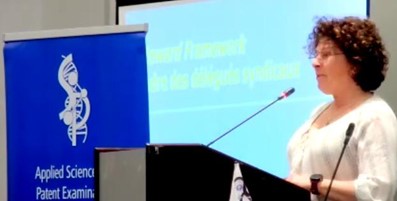 SP Presidents Meeting – Western Zone
This meeting was held on April 15th in Vancouver, with representatives from Western Sub Groups.  It was an excellent opportunity for networking, discussing regional issues, and engaging with members locally.  We also had discussions about topics such as the return to the office mandate, ongoing challenges with pay due to Phoenix, health benefits, RANDS, and Steward recruitment.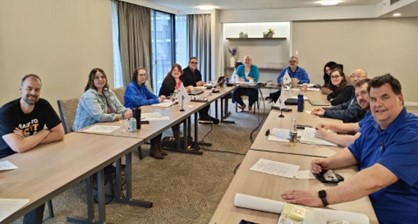 Bargaining Update –  provided by David Griffin, PIPSC Negotiator
PSAC Strike Important for All Workers
At the time of writing this article, the PSAC are now into the third day of their general strike; one of the largest general strikes in Canadian history. Hopefully by the time you read this article, the strike will have forced Treasury Board to bring a reasonable offer to the table to resolve the dispute. The outcome of this strike is important for all workers across all sectors; public sector workers, private sector workers, and unionized and non-unionized workers.
PSAC members at the Canada Revenue Agency (CRA) have been without a contract for nearly a year, and PSAC members working for Treasury Board have been without a contract for nearly two years. During this time the cost-of-living has absolutely skyrocketed to 6.8% annualized for 2022, yet both Treasury Board and CRA are seeking concessions and offering sub-inflation wage proposals. Other core issues in dispute include building a more inclusive public service, remote work and contracting out.
These are common issues for PIPSC and the SP group, and we have been experiencing the same difficulties with Treasury Board in our negotiations. The outcome of PSAC's strike will have significant impacts on your next collective agreement. It is essential that we stand in solidarity with PSAC in this fight for a better deal.
During the course of the strike we will hear things in the media and in our communities that federal public service workers are being greedy and asking for too much. As you know, that simply isn't true or fair. Public servants have always been there when Canadians need them the most, as was the case during the pandemic.
When the federal government, Canada's largest, suppresses wages for its workers, they are pushing down wages for all workers across all sectors.
The outcome of PSAC settlement reached through strike action will have a significant impact on the outcome of collective bargaining across the federal government, including PIPSC members. Solidarity with our union colleagues at PSAC is very important in securing the best possible wage and benefit increases across the public service.
The SP Group Bargaining Team will be at the bargaining table May 16 to 18 and June 20 to 2023. For more information on SP Bargaining visit the SP Group web page at: https://pipsc.ca/groups/sp
Frequently asked questions on the bargaining process can be found here.
Digital bargaining visibility items can be found here.
Introducing Katherine Kenney – Negotiator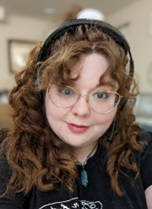 Katherine is a proud Acadien who grew up in Nova Scotia, and came to Ottawa for school then proceeded not to leave. Alumnae of both the University of Ottawa and Carleton University, she studied political science to the doctorate level and is a self proclaimed "political junky". 
It is during those studies she became involved with the labour movement as a member, then executive and bargaining team member for her CUPE unit. She then went to work for PSAC, followed by most recently withat the Part-Time Professor Association at the University of Ottawa.  She gained experience in labour relations, member services, essential services and exclusions but her passion remained bargaining. 
When asked why she is passionate about this work, Katherine answered: "I found in labour an ability to make significant improvements not only to people's working conditions but their lives. When people have great working conditions they are free to make leaps, take risks and support each other so they can, in turn, be empowered to follow their ambitions change. I have always wanted to work making the world a more equitable and inclusive place and found in Union solidarity a power tool for change I wish to harness to make all of our lives richer and more fulsome."  When she isn't working Katherine can usually be found gardening, puzzling, reading, watching way too much TV and taking care of her numerous pets.
PSAC Strike
We are proud to see SP Members out across the country supporting the PSAC Strike.  As stated by President Carr, the outcome of PSAC's labour action will have significant impacts on our next collective agreement. It is essential that we stand in solidarity with PSAC in this fight for a better deal. 

When the federal government – Canada's largest employer – depresses wages for its workers, what they're really doing is pushing down wages for all workers across all sectors: public sector workers like us, private workers, unionized and non-unionized workers everywhere.
Marcel Beaudoin at the PSAC picket line in Gander, Newfoundland, April 19th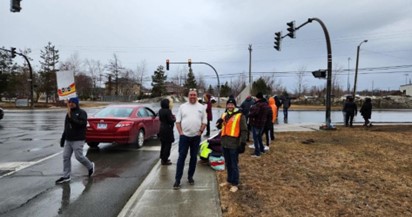 Tanya Evans at the PSAC picket line in Coquitlam, British Columbia, April 21st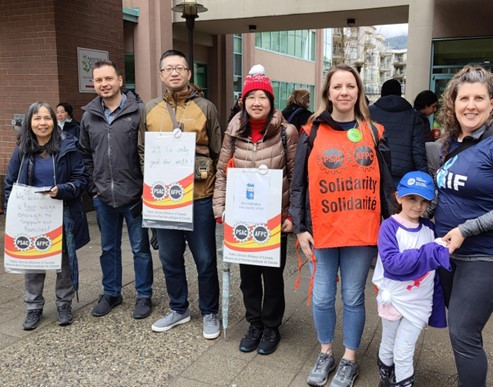 Steward Update – a Discussion about Code 699 (provided by Kevin Jacobs)
If you are unable to work due to reasons outside your control, other paid leave (also known as leave code 699) may be available to you. Volcanic eruptions, blizzards, ice storms, and subsequent power outages, and pandemics may be among some of the events that might prevent an employee from reporting for work.
Existing long before COVID 19, other paid leave (leave code 699) was and is still available to employees.
However, its approval is not automatic and the burden of proof is on the employee to demonstrate that the reasons for not being able to report are outside of their control and that reasonable considerations were made to report for work. In the case of travel, it is important to plan for some possible disruptions. In turn, management must act reasonably in considering and approving these requests.
In Martin v. Treasury Board (Department of Veterans Affairs), 2014 PSLRB 37 (CanLII), <https://canlii.ca/t/g6jbp> the grievor was on vacation in Europe when the Eyjafjallajökull volcano erupted in Iceland, causing much of the European airspace to be closed and grounding aircraft. The grievor travelled on the first flight available and applied for other paid leave for the time between their vacation and when they were able to report for work. The employer only approved part of the leave request. The employee grieved the decision to only approve part of their request. Result : grievance allowed
In Close and Stevens v. Treasury Board (Department of Citizenship and Immigration), 2016 PSLREB 18 (CanLII), <https://canlii.ca/t/gp3xr>
Two grievors both working for the same employer requested leave code 699 for different reasons. One was three hours late for work because they required time to clear their driveway after a snowstorm and their husband that normally cleared the snow became incapacitated. It took the grievor some time to learn to operate the snowblower and clear the driveway. The other grievor was late for work because their flight was delayed. For the first grievor the adjudicator allowed the grievance finding that the denial of the leave request was unreasonable. For the second grievance the grievor planned their flights in such as way as to leave no margin of error. In this case the grievor planned their original flights to only allow 5.5 hours between arriving from an overseas trip and the start of their scheduled workday. Result : Grievance denied
Conclusion : whether or not leave for other reasons is available will depend on the individual circumstances of the case. Employees must consider options to report for work and be forthright with notifying their supervisors. Managers must act reasonably in reviewing requests for other paid leave.
If you have questions about whether you might be eligible for other paid leave, please reach out to a steward.
Consider being part of the SP Group Executive!  (by Bryan Van Wilgenberg)
Periodically SP executive positions come up for election. I'd like to take a moment to provide some basic information, so you can be ready to put your name forward when the opportunity arises.
●       Terms are 3 years, executive generally consists of 13 members.
●       Leave taken to participate in, and travel to, meetings is reimbursed by PIPSC. 
●       We generally hold 5-6 meetings a year of which about 2-3 are in person. All meetings have hybrid options for those wishing to attend remotely.
●       Meetings generally occur in Ottawa, Montreal or Toronto.
●       Meetings are fully bilingual (simultaneous translation).
●       Training is provided for new executive members.
●       For more information on the SP executive and what we do see our by-laws and constitution : https://pipsc.ca/groups/sp/bylaws
Are you a PIPSC member?  Are you receiving PIPSC Email?
We are receiving inquiries from employees about the PSAC strike, and requests for information about PIPSC, Consultation, Bargaining and union activities across the country.  As a first step, please ensure that you are registered with PIPSC and your contact information is up to date.  You can also ensure that you are not a RAND member.  Information on how to sign up with PIPSC can be found here:
https://pipsc.ca/member-tools/application
You can request your PIPSC membership number here:
https://pipsc.ca/member-tools/find-your-membership-number
Request a new PIPSC membership card here:
https://pipsc.ca/member-tools/request-new-membership-card
As always, we look forward to hearing from you,
Tanya Evans, Communications Coordinator
for the SP Group Executive Committee