Hello SP Stewards,
For your information, please find attached the 2018 SP Steward Report that I presented at the 2018 SP AGM.
Thank you as always for the work you do on behalf of our members and our union.
Sincerely,
Elizabeth Ptasznik
SP National Executive
Chief Steward

Chief Steward Report
2018 SP Annual General Meeting
OTTAWA, Ontario
April 7, 2018
Submitted by Elizabeth Ptasznik, Chief Steward
The role of the Chief Steward is to be the main point of contact between the SP Executive and the SP Stewards.
Activities in support of this objective in the past year include:
In response to member requests, I created a document that allowed members to directly compare the old Collective Agreement with the negotiated changes in the new Collective Agreement. The old Collective Agreement article and language was provided with strikeouts where changes occurred with the new Collective Agreement language directly beside the old language. This allowed for a direct comparison between the old provisions and the new at a glance. A summary of wage increments was also provided. This document was emailed to all Stewards and posted on the PIPSC SP website.
 SP Stewards were emailed a Steward Toolkit document along with a Workers Compensation Board document as reference materials.  These documents were posted on the PIPSC SP website.
SP Stewards were invited to submit their Bargaining Priorities to assist in the creation of the new 2018 Bargaining Priorities Survey that will be distributed to all SP members in preparation for the new round of Bargaining. This information was compiled and provided to the Bargaining Team in support of the creation of the Bargaining Survey.
SP Stewards were mailed a "Thank you" letter along with a hard covered notebook to support note taking in their role as Stewards.
There was a SP Executive representative all regional 2017 Steward Councils to meet with Stewards.
Highlights of the changes in the SP Steward population over the past few years include:
- The SP Steward population has remained relatively stable from 2015 – 2018 ranging from 138 – 140 Stewards within those four years.
- There has been an increase of 12 stewards in Prairie/ NWT Region from 23 Stewards in 2014 to 35 Stewards in 2018.
- Prairie/ NWT Region has the highest number of Stewards with 35 Stewards followed by National Capital Region with 29 Stewards.
- Environment & Climate Change Canada has the highest representation of Stewards with 51 Stewards followed by Health Canada with 24 Stewards.
Respectfully submitted,
Elizabeth Ptasznik
a) SP GROUP STEWARDS GRAPH  - AGES & SEX  (as of March 2018)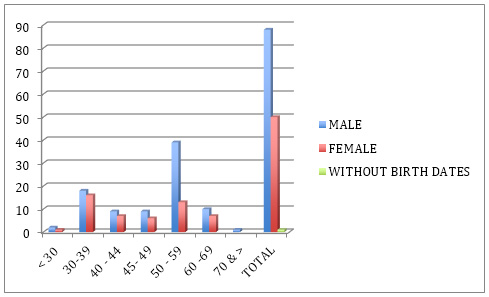 b) SP GROUP STEWARDS CHART - AGES & SEX (as of March 2018)
SP GROUP STEWARDS AGES and SEX
 

< 30

30-39

40 - 44

45- 49

50 - 59

60 -69

70 & >

TOTAL

MALE

2

18

9

9

39

10

1

88

FEMALE

1

16

7

6

13

7

 

50

WITHOUT

BIRTH DATES

 
 
 
 
 
 

1

 
 
 
 
 
 
 
 

139
2. NUMBER OF SP STEWARDS RELATIVE TO OTHER PIPSC BARGAINING GROUPS  (as of March 2018)
| | | | |
| --- | --- | --- | --- |
| GROUP | Number of Stewards | Number of Members | Ratio of Stewards (Members / Stewards) |
| Applied Science and Patent Examination Group | 139 | 7928 | 57 |
| Audit, Commerce and Purchasing Group | 65 | 5772 | 89 |
| Audit, Financial and Scientific Group | 475 | 11732 | 25 |
| CFIA, Scientific and Analytical Group | 37 | 1215 | 33 |
| CFIA, Veterinary Group | 38 | 581 | 15 |
| Computer Systems Group | 273 | 13713 | 50 |
| Engineering, Architecture and Land Survey Group | 53 | 3456 | 65 |
| Health Services Group | 150 | 3217 | 21 |
| Research Group | 48 | 2546 | 53 |
3.a) NUMBER OF SP STEWARDS BY CLASSIFICATION GRAPH (as of March 2018)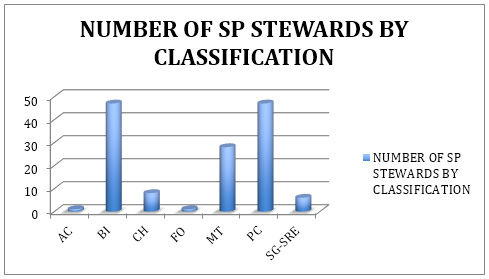 3. b) NUMBER OF SP STEWARDS BY CLASSIFICATION CHART (as of March 2018)
| CLASSIFICATION | NUMBER OF SP STEWARDS (2018) |
| --- | --- |
| AC | 1 |
| AG | 0 |
| BI | 47 |
| CH | 8 |
| FO | 1 |
| MT | 28 |
| PC | 47 |
| SG-PAT | 1 |
| SG-SRE | 6 |
| TOTAL | 139 |
3.c) NUMBER OF STEWARDS BY CLASSIFICATION CHART – HISTORICAL DATA (as of March 2018)
Classification

Stewards (2014)

Stewards (2015)

Stewards

(2016)

Stewards

(2017)

Stewards

(2018)

AC

 1

 1

1

1

1

AG

 0

 0

0

0

0

BI

 46

 48

46

46

47

CH

 7

 9

7

7

8

FO

 1

 1

1

1

1

MT

 25

 24

29

30

28

PC

 39

 43

47

48

47

SG-PAT

 4

 4

2

0

1

SG-SRE

 6

 8

7

5

6

TOTAL

129

138

140

138

139
4. a) NUMBER OF SP STEWARDS BY REGION GRAPH ((as of March 2018)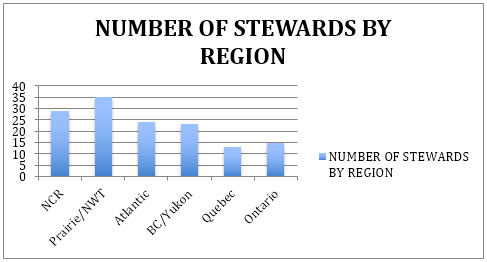 4. b) NUMBER OF SP STEWARDS BY REGION CHART (as of March 2018)
| REGION | NUMBER OF SP STEWARDS |
| --- | --- |
| NCR | 29 |
| Prairie/NWT | 35 |
| Atlantic | 24 |
| BC/Yukon | 23 |
| Quebec | 13 |
| Ontario | 15 |
4. c) NUMBER OF SP STEWARDS BY REGION- HISTORICAL DATA (as of March 2018)
Region

Stewards (2014)

Stewards (2015)

Stewards

(2016)

Stewards

(2017)

Stewards

(2018)

Members

Ratio
(Members per Steward) (2018)

Atlantic

 22

26

26

23

24

 740

30.8

Quebec

 12

13

16

13

13

 902

69.4

National Capital

 32

32

32

33

29

 3691

127.3

Ontario

 15

15

13

13

15

 945

63.0

Prairies / Northwest Territories

 23

26

28

33

35

 864

24.7

British Columbia / Yukon

 25

26

25

23

23

 786

34.1

TOTAL

129

138

140

138

139

7928

 
5.a) NUMBER OF SP STEWARDS BY PROVINCE/TERRITORY
  (as of March 2018)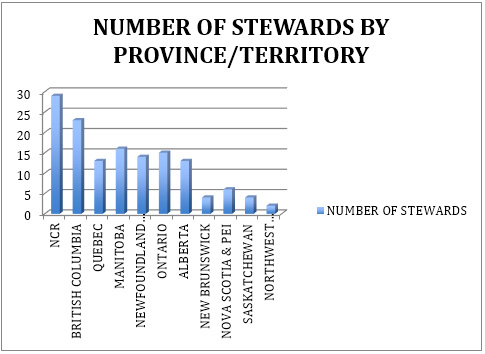 5.b) NUMBER OF SP STEWARDS BY PROVINCE/TERRITORY CHART  (as of March 2018)
| PROVINCE/TERRITORY | NUMBER OF STEWARDS |
| --- | --- |
| NCR | 29 |
| BRITISH COLUMBIA | 23 |
| QUEBEC | 13 |
| MANITOBA | 16 |
| NEWFOUNDLAND & LABRADOR | 14 |
| ONTARIO | 15 |
| ALBERTA | 13 |
| NEW BRUNSWICK | 4 |
| NOVA SCOTIA & PEI | 6 |
| SASKATCHEWAN | 4 |
| NORTHWEST TERRITORIES | 2 |
6.a) NUMBER OF STEWARDS BY DEPARTMENT (as of March 2018)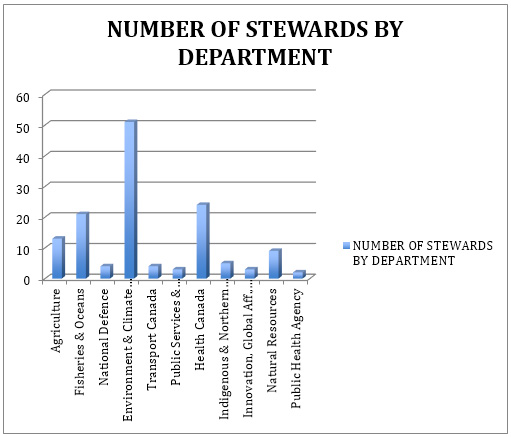 6.b) NUMBER OF STEWARDS BY DEPARTMENT - CHART  (as of March 2018)
| DEPARTMENT | Number of Stewards |
| --- | --- |
| Agriculture & Agri-food Canada | 13 |
| Fisheries & Oceans | 21 |
| National Defence | 4 |
| Environment & Climate Change Canada | 51 |
| Transport Canada | 4 |
| Public Services & Procurement Canada | 3 |
| Health Canada | 24 |
| Indigenous & Northern Affairs Canada | 5 |
| Innovation, Science & Economic Development Canada, Global Affairs Canada, Royal Canadian Mounted Police | 3 |
| Natural Resources Canada | 9 |
| Public Health Agency | 2 |