PIPSC NRC Newsletter NOV 2017

RO/RCO Group
Research Officers and Research Council Officers Group Executive Members (2017)
President Susan O'Donnell Fredericton
Vice-President Daniel Durand Victoria
Secretary Mary Zborowski Ottawa
Treasurer Keith Yeung Victoria
Member-at-Large Jeff Zidichouski Calgary
Member-at-Large Devanand Pinto Halifax
Member-at-Large Patricia Loder Goose Bay
Member-at-Large Cathy Cheung Ottawa
Member-at-Large Daryl Wong Vancouver
Member-at-Large Serguei Koutcheiko Edmonton
Member-at-Large Stephan Grosse Montreal
Chief Steward Patricia Loder Goose Bay
Please print this newsletter and post it on the union bulletin board in your facility. If you don't have a union bulletin board or are not sure where it is, contact us: rorco@pipsc.ca. Past newletters and other updates from our group are available from our website:
http://pipsc.ca/groups/nrc-ro-rco
Report from the NRC RO/RCO group president, Susan O'Donnell
Hello colleagues! Greetings from Fredericton. My report has updates since our last newsletter (July 2017) that is available on our group website:
http://pipsc.ca/groups/nrc-ro-rco
For more info on any of these items, contact the group executive: rorco@pipsc.ca
Improving NRC RO/RCO pay and dissatisfaction with working at NRC
At this time, almost all the emails from members to me and the RO/RCO group executive concern bargaining for the next collective agreement. Thank you to everyone who has contacted us with your ideas and concerns. I will take this opportunity to share information about RO/RCO pay scales and dissatisfaction with working at NRC, as this is, by far, the issue most members write to us about.
Many of you have serious concerns about the pay disparity between researchers at NRC and those in universities and even more so as compared to industry. Many have sent us emails referencing the Ontario government's "sunshine list" and other publicly available information to identify specific former NRC researchers whose salaries are considerably higher now that they are working outside of the NRC. There is no doubt that the NRC pay scale is considerably lower than at most universities and in the industrial sector. It is also clear that the lower salaries will have a detrimental impact on NRC's ability to retain its most senior researchers and attract new researchers of international calibre.
We share your concern about this situation! As a union, we have raised this particular issue numerous times with NRC senior management. Everyone agrees the pay disparity exists but the government claims to not have the funds to increase our pay. As a union, we can address this situation through collective bargaining for better pay. As you know we are at the bargaining table now. When it comes time to bargain for better pay, you can be sure that your bargaining team will argue our case. Our challenge is that as federal government researchers, precedents to pay increases have been established with many other federal government employees. The NRC management bargaining team is directed by Treasury Board to not exceed the established pay settlements already agreed for other federal employees.
In anticipation of this situation at the bargaining table, we chose a conciliation-strike dispute resolution method that gives us more options in terms of applying leverage. For previous collective agreement bargaining rounds, the RO/RCO bargaining team had chosen a binding arbitration dispute resolution method; in that scenario, if the bargaining reaches an impasse in the pay discussions, an arbitrator makes the decision and it is final. The arbitrator will always decide in favour of the established pay settlements of other federal employees. In our conciliation-strike scenario, if we cannot come to an agreement on pay scales, we can seek conciliation but the recommendation is not binding. We can then vote as a group to be in a strike position and carry out job actions such as refusing to perform certain tasks, which will create difficulties for management and give us more leverage at the bargaining table.
One way of making the pay disparities more bearable is to improve the everyday working conditions for researchers and for all RO/RCOs at NRC. The pay disparity between researchers at NRC and those at universities and industry has existed for well over a decade but it has become a hot issue for RO/RCO members at NRC much more recently. This is primarily because the situation of research at NRC and the everyday working conditions have deteriorated to such an extent that better pay seems, to many RO/RCOs, to be the only way that their job at NRC will be satisfying.
As a union, our efforts to improve the working situation for RO/RCO members and the situation of research at NRC are ongoing at the national joint union-management meetings and other consultation committees as well as at the bargaining table. We continue to be optimistic that NRC management will recognize that our requests and demands for improved working conditions and research opportunities, better communications and consultation and more meaningful input into the NRC organization are reasonable and necessary. These improvements will be good for everyone - members and management - and will help secure the future success of the organization.
A new RO/RCO sub-group in the National Capital Region (NCR)
I am excited about the formation of the new RO/RCO sub-group in the NCR. This new group brings union activities closer to the everyday working lives of our 610 members at the Montreal Road campus, 95 members at Uplands, and 78 members at Sussex. The NCR sub-group has already held several meetings with members and is busy planning activities for the remainder of the year, including their AGM on November 28. The NCR sub-group is liaising closely with the RO/RCO executive committee team to ensure that our efforts are aligned. I would like to thank all the members of the NCR sub-group executive who spent countless volunteer hours to get their new group up and running and working to support our members: Louis Poirier (president), Marc MacMaster (vice-president), Cathy Cheung (secretary), Carsen Bannister (treasurer), and members-at-large Craig Bihun, Chris Kingston, Jackie Lo and Marc Genest.
Executive meetings with NRC RO/RCO members
We had 36 RO/RCO members participating at our October 13th meeting at the NRC OCRE facility in St. John's. Members had many questions for the group executive and our PIPSC negotiator, particularly about bargaining. IRAP members raised a number of concerns. The RO/RCO executive discussed the issues raised in St. John's for further action.
Our next meeting with RO/RCO members will be our AGM on December 8th in the M50 Auditorium in Ottawa. As indicated in the AGM notice, our guest speaker will be Dr. Mario Pinto, president of NSERC. Given the renewed NRC focus on working with universities, we are interested to hear if Dr. Pinto will have ideas about what a successful NRC-university relationship would look like.
I will take this opportunity to thank all the RO/RCO members who have attended our meetings in 2017 and who have written us this year with your questions and concerns. We appreciate your information and engagement. Thank you also to our RO/RCO stewards and reps who have been active in NRC buildings across the country. If you would like a meeting scheduled in your location, contact us: rorco@pipsc.ca
Upcoming opportunities to join the NRC RO/RCO executive
An info sheet about the role of the RO/RCO executive is available on our website. Scroll down to the document: What is the PIPSC NRC RO/RCO group?
http://pipsc.ca/groups/nrc-ro-rco
The call for nominations for new executive members was sent out in November and will remain open until December 7, the day prior to our AGM. I encourage all of you to consider getting involved. If you would like more information about what is involved in being on the executive, you are welcome to contact any of the executive members listed above for more information.
A personal note
My term with the RO/RCO group executive and as group President ends at the AGM in December. I am committed to staying on with the bargaining team until our new collective agreement is ratified. I feel grateful for the opportunity to serve on our executive and as president over the past four years. It was a wonderful learning experience, one that I will reflect upon often in my retirement.
I have confidence in the executive team that will continue in 2018 and the members who will be stepping up to fill the vacancies on the team. We have more group stewards and activists than ever before and a new RO/RCO sub-group in the NCR. The PIPSC NRC RO/RCO group is poised to continue to play an active role in the ongoing improvements needed at NRC.
My personal journey as a union activist has been highly rewarding. In mid-2013, before I joined the RO/RCO group executive, I was an extremely unhappy Senior Research Officer in the NRC Fredericton facility. In early 2013, management had suddenly stopped approving our requests for NRC visiting worker status for graduate students. I missed the work of training and supervising graduate students; for me that had been the most rewarding part of my job at NRC. Instead of doing research, I and many of my colleagues were spending endless months drafting and redrafting research program proposals for review by the NRC Senior Executive Committee. I had excellent colleagues and my supervisor and portfolio managers were fine but I believed the most senior NRC management did not understand what researchers needed to be successful. It was an excruciating time. I wanted to stay at NRC but knew that I would develop serious mental health issues unless I could do something to change the situation. I decided to become active in my union.
My decision to put my name forward for the PIPSC NRC RO/RCO executive group at the 2013 AGM was one of my best decisions ever. I became a PIPSC steward in early 2014 and the group president later that year. Since then I have been supported by and working with a strong group executive team and RO/RCO stewards and active members, a large team of staff and elected officials at the PIPSC national office, and a national group of scientists and researchers in other federal departments and agencies who are also PIPSC union activists. My group president and steward position allowed me to develop leadership skills and experience in many situations where I could help to improve working conditions and the situation of research and researchers at NRC. My work on several key PIPSC committees also contributed to improvements for other federal researchers across Canada. It has been an exciting and rewarding time for me.
I would encourage any RO/RCO member who is considering putting their name forward for the RO/RCO executive to do it! Now that I am retired I have many opportunities to apply the skills and experience I gained from my time on the executive to help build my community in Fredericton in positive ways. I am looking forward to many productive and interesting years here in a community that I have grown to love. I also look forward to maintaining important personal relationships that I developed over these past few years.
I leave with only good thoughts and best wishes to one and all. Thank you to everyone who is contributing to our strong and vibrant union!
Susan O'Donnell,
PIPSC NRC RO/RCO Group President
Who makes up the NRC RO/RCO Group?
We often get questions related to understanding the basic demographics or distribution of the RO/RCO members included in our rather large Group. Such as, how are our Group members (FTE-wise) distributed throughout our country and their respective high-level reporting lines, how many RO/RCOs describe their General Job Function as a "Researcher" or a provider of "Research Support or Research Services" that support NRC's current R&D mandate, what is the current distribution through the various RO ranks (J, AS, AC, S, P) and RCO 1 to 5? To this effect, Cathy Cheung of your Executive Committee has kindly prepared the following report that you might find of interest.
Currently there are 1582 members in the RO/RCO group. In addition to scientists and engineers whose main duty is research and development within the Research Divisions, we also have a significant number of members working as RCOs in IRAP, Business Management Services, and Corporate Services. These roles include Industry Technical Advisors (ITAs in IRAP), Project Managers/ Leads Client Relationship Leader, and auditors to name a few. To better appreciate the diversity within the group, we've included some statistics and data on the makeup of our membership.
Distribution of RO/RCO members by classification level (based on 2014 employer data):
The split between ROs and RCOs is approximately 50/50.
| | | | |
| --- | --- | --- | --- |
| Classification level | Percentage | Classification level | Percentage |
| JRO | 0.1% | RCO1 | 0.1% |
| ASRO | 13% | RCO2 | 3% |
| ACRO | 13% | RCO3 | 13% |
| SRO | 20% | RCO4 | 30% |
| PRO | 6% | RCO5 | 2% |
Regional distribution of RO/RCO members (as of October 2017) – number of members in each location are indicated with smaller numbers of members grouped into the provincial totals: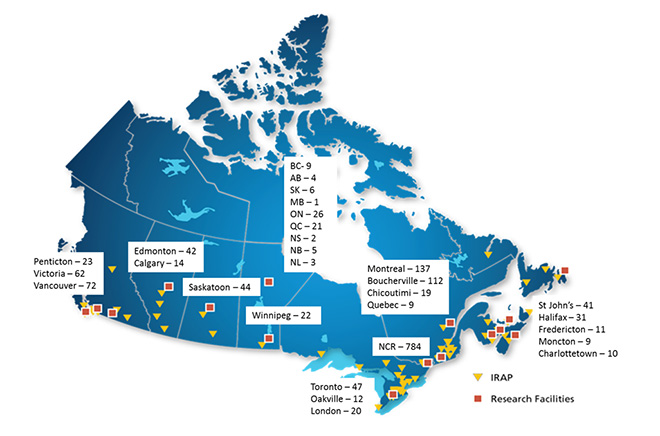 Distribution of RO RCO members by general job function (based on 2015 member survey):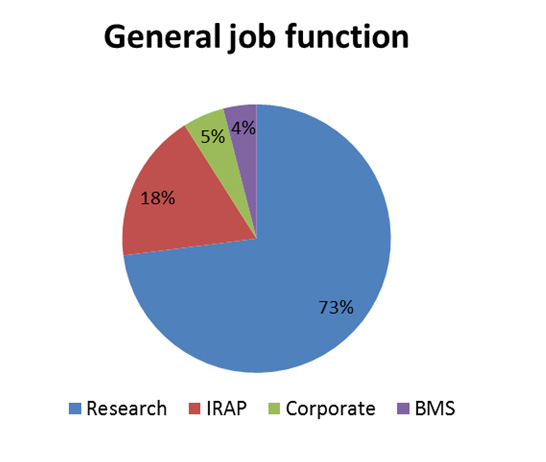 Distribution of Researchers by Portfolio/Research Centre (based on 2015 data – prior to split of ICT, does not include RO RCO members in IRAP, BMS, Corporate Services):
| | | | |
| --- | --- | --- | --- |
| Portfolio/Research Centre | Percentage | Portfolio/Research Centre | Percentage |
| ACRD | 8% | MD | 4% |
| AERO | 14% | MSS | 7% |
| AST | 10% | NINT | 4% |
| CONST | 8% | NSI | 7% |
| EME | 9% | OCRE | 4% |
| HHT | 9% | SDT | 5% |
| ICT | 11% |   |   |
PIPSC RO/RCO Group-supported Events
If you would like to apply for some funding for your event, please tell us the date and your building/portfolio/branch and the number of attendees, the RO/RCO executive group will gladly provide some financial support for your event. The support we can offer does vary depending on the number of attendees. For example, $200 will be provided for 20 attendees and $400 for 40 attendees.
Detailed guidelines for the support are given as follows
Every RO/RCO member in your building, portfolio or branch should be included in the invitation to the event.
The Group will support one request per year per building/portfolio/branch.
Any request should be sent to rorco@pipsc.ca, and also to the Treasurer of the RO/RCO executive committee (listed on http://pipsc.ca/groups/nrc-ro-rco/executive).
Funding will be provided based on the actual number of RO/RCO members attending the event.
Funding formula:

20 or fewer members, $20 per member, maximum $200.
Additional 20 members (21-40), $10 per member, maximum $200.
Additional 20 members (41-60), $5 per member, maximum $100.
Members attending must be informed that the event was supported by the PIPSC NRC RO/RCO group and that more stewards are needed to represent our members.
A photo of the event and a sign-up sheet must be sent along with the receipt for reimbursement to rorco@pipsc.ca and also to the Treasurer of the RO/RCO executive committee.
The reimbursement is the total amount on the receipt(s) or the amount determined by the funding formula above, whichever is less.
Looking forward to hearing from you soon!
Ongoing call for Location-based Representatives
The NRC RO/RCO Group is seeking volunteers to serve as local representatives for the RO/RCO Group in their respective Research Centre/ Branch/ Location. Generally, there is one representative per building. When a Research Centre or branch has multiple locations, it is good to have a representative in each location.
If anyone is interested in volunteering a small portion of your time to serve as an Location -based representative, please send an email message to rorco@pipsc.ca .
PIPSC has a dedicated team of Employment Relationship Officers (EROs) hired full time to provide you with labour relations related representation and advice as and if needed. Note that there have been some recent changes in the Prairie Provinces with regard to the provision of ERO support.
PIPSC Employment Relations Officers (EROs) for all the NRC groups in Ottawa (NCR) are as follows:
For National Research Council Members in Business & Professional Services,
Business Management Support, Corporate Management/Finance, Emerging Technology Division, and the President`s Office, your local ERO is Sara Boulé-Peronni. She is located at the PIPSC National Office at 250 Tremblay Road, Ottawa and can be reached by email, sbouleperroni@pipsc.ca,or by telephone at (613)228-6310, or 1(800)267-0446, extension 4756.
For National Research Council Members in the Engineering Division or Life Sciences Division, your ERO is Bruno Hamel, He is also located at 250 Tremblay Road, Ottawa and can be reached by email, bhamel@pipsc.ca or by Telephone at (613)228-6310 or 1(800)267-0446
The EROs for all NRC in other regions are: Atlantic - Max Way mway@pipsc.ca, Quebec – Robert Melone rmelone@pipsc.ca, ONTARIO outside of the NCR - Sara Guillaumant-Fitzgerald sguillaumantfitz@pipsc.ca, Manitoba and Saskatchewan, Jeffrey Ryder jryder@pipsc.ca, Alberta – Kris Hawkins khawkins@pipsc.ca, and for BC/Yukon – Dulce Cuenca dcuenca@pipsc.ca.
Full contact info for the regionally-deployed EROs can be found using the following link and then by clicking on your ERO's name: http://www.pipsc.ca/about/contact-us/staff