Celebrating NPSW at the Bells Corners Complex in Ottawa
On June 12th, employees at Natural Resources Canada (NRCan) Canmet's Bells Corners Complex (BCC) celebrated National Public Service Week in style through "stay fit" activities. The day was perfect for outdoor events, with the 2nd Annual BCC Ball-Hockey Tournament the main feature of the celebration. Teams were selected randomly and players battled it out in a double-header to determine the new champions of the coveted BCC trophy.
Instead of sitting on the sidelines, the event organizers expanded the list of stay-fit activities so that other BCC employees could partake in events showcasing their own talents, including: volleyball, fitness boot camp, and kickboxing with BCC's resident Sensei, El Lorno.
The Professional Institute of the Public Service of Canada (PIPSC), through its "Better Together" campaign, and the Public Service Alliance of Canada (PSAC) Union of Canadian Transportation Employees hosted everyone at a tasty BBQ lunch, served up by enthusiastic BCC barbecue chefs. Live music from a talented BCC musician, Bruce Strathhearn, kept everyone's toes tapping.
On behalf of Public Service employees at the Bells Corners Complex, THANK YOU to our event supporters for their incredible generosity!  We look forward to celebrating and "staying fit in style" again next year.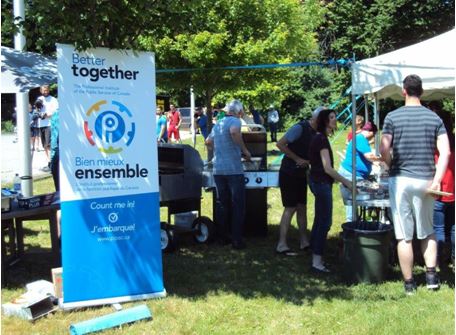 Many federal public service employees gathered to enjoy the sunshine and festivities for National Public Service Week at NRCan's Bells Corners Complex. Everyone took a break from the various physical activities (and rivalries!) to enjoy a BBQ lunch hosted by PIPSC and PSAC.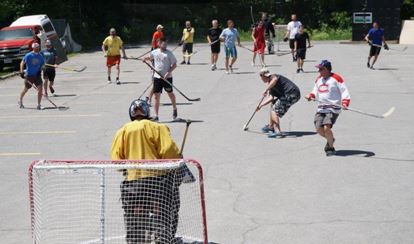 Players battled it out in the 2nd Annual BCC  Ball-Hockey Tournament to claim the coveted BCC trophy.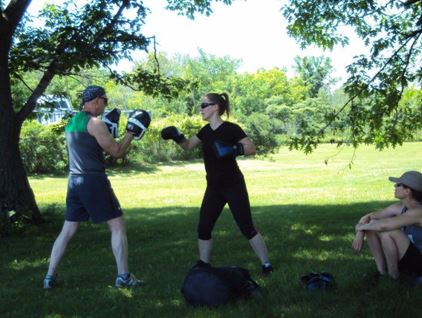 Bells Corners Complex's resident Sensai, El Lorno, was on hand to teach his kick-boxing class to a NR member.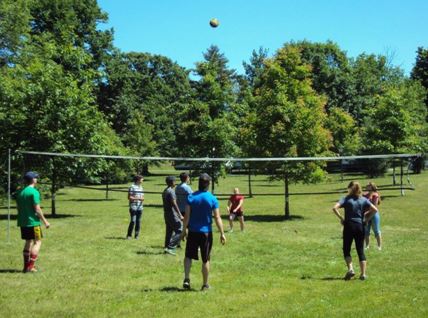 Volleyball players squared off in several heated games.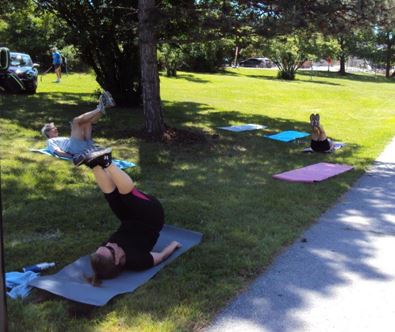 It was hot, but dedicated souls found some shade and  kept up with their boot camp regime. Newcomers were welcome too,  thanks to some spare mats provided by PIPSC and PSAC!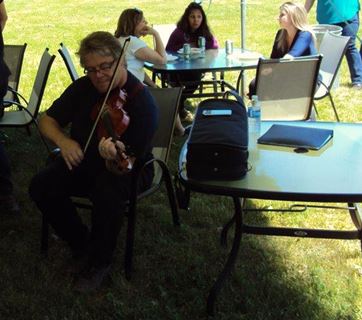 Bruce Strathhearn kept the barbecue lively with his fiddle music.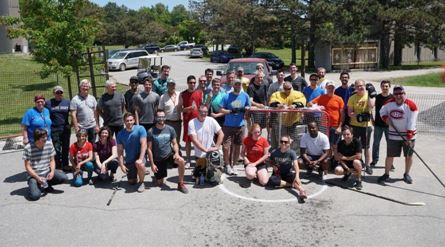 Thank you to PIPSC and PSAC for sponsoring our NPSW "Stay Fit" celebration!
Looking forward to next year. 
David A. Young
President,
 
Shelley Huntley,
Event Coordinator,
NR NRCAN Sub-group