PIPSC NR Group Newsletter
September 2017
Hi All,
As we come to the end of summer recess, your NR Group news is finally here.
BARGAINING NEWS
By now you should have received official notice that our Group's bargaining efforts have been successful. After a Bargaining Team strategy session and a further number of long days with the mediator, we came to terms with our employer. A tentative Agreement was concluded and presented to the NR Executive. After a presentation by Pierre Ouellet our PIPSC Negotiator, and Geoffrey Kendell our Bargaining Team Coordinator, your Executive recommended that the Agreement be forwarded to each NR Member, to vote on ratification. Following that recommendation, the draft was sent for translation, and the ratification process was completed, with your concurrence to accept the contract offer by Treasury Board. With that said, we were one of the last Groups to complete Bargaining, and therefore there are a number of Groups that are now ahead of us in line, to have tentative Agreements translated for approval, so there will be a bit of a wait for that process be completed. Plans are underway, once the tentative Agreement is signed, to have presentations by SubGroups, to discuss the progress from the previous contract. The tentative Agreement will include provisions for both Sick Leave and Workforce Adjustment, which were previously negotiated at separate tables with NR representatives (Jennifer Carr, for Sick Leave & Hugo Buttau, for Workforce Adjustment).
A large thank you to the hardworking & persistent members of our Bargaining Team:
Yves R. Cousineau NR president
Geoffrey Kendell Bargaining Team Coordinator
Shirley Tso Bargaining Team Member
Randy K. Dhar Bargaining Team Member
Jan F. Wentzel Bargaining Team Member
Pierre G. Richard Bargaining Team Member
David A. Young Bargaining Team Member
Tim F. Kirkby Bargaining Team Member
Pierre Ouellet PIPSC Negotiator
Keep a lookout for further details on signing of the contract and its implementation.
NR Bylaws
Due to unexpected issues, I have not been able to advance the work accomplished by our Group's previous Vice-President Joan Muise, and previous Sub-Group Coordinator David Young, beyond forming a Group Subcommittee, consisting of Don Burns, our PIPSC former Vice president, and Pierre Richard from our Executive, to update the work done. I expect we will finally be able to meet the PIPSC Bylaw Committee's requirements, over the coming months.
PIPSC Annual General Meeting
The 2017 PIPSC National AGM will be held Hilton Lac Leamy in Gatineau, Quebec on November 17-18. A call for Delegates will be made, with selection criteria to be reviewed at our upcoming NR Exec meetings.
Members in the News
Ranjit Dhar (pictured below left) was elected Registrar nationally at the RAIC Convocation of Fellows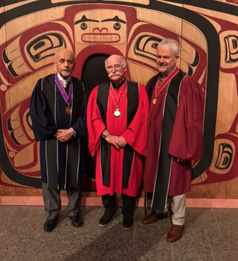 Sub-Group News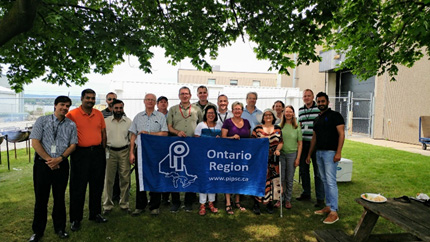 The Hamilton/Burlington NR Sub-Group BBQ - 2017-07-26. Asif M. Mohammed, our NR Vice President is 2nd from left.
NR Sub-Group Presidents meeting and NR Annual General Meeting
Our Group AGM was held June 10, in St. John's Newfoundland, along with the NR Sub Group President's Meeting on June 9. The Sub Group Presidents meeting was hosted by our Sub Group Coordinator Glen Schjerning; this presented an opportunity to have your Subgroup president present your ideas & take back solutions provided by the Delegates.
The AGM included the Sub Group Presidents, as well as additional Delegates as recommended by Asif Mohammed, our NR Vice President, and Delegate Selection Coordinator. Asif has developed a pre-selection process that was provided to our Executive.
As recognition of Canada's 150th anniversary, and our Group's meetings in St. John's, we commemorated the events with planting a flame-maple tree across the street from City Hall. Next time you are in St. John's, check out our tree.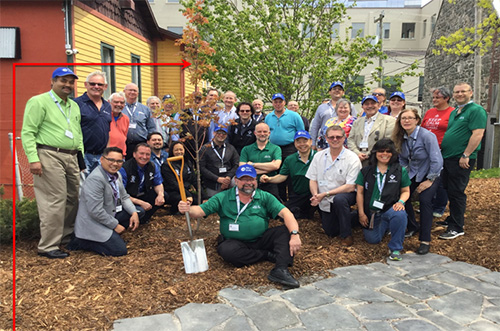 Yes, that's our NR tree next to my shovel.
Well that wraps up this summer, see you in the fall when we can share the text of our new contract.
We are Better Together,
Hugo Buttau, P. Eng.
PIPSC NR Group Communications Coordinator