The Toronto CS Sub-Group Newsletter - December 2019 Edition
                                     Happy Holidays from your
                            Toronto CS Sub-group Exec Members

This newsletter is a new initiative to:  reach out to members of the Toronto CS Sub-Group, introduce ourselves, share published info that members may not already be aware of and build our community.  We are all CS union members of PIPSC, let's work together to show our pride and achieve our mutual goals! We invite you to attend events, help out, volunteer, run for an Executive position and/or write to any of us and share your ideas about how we can #dobetter.  Better yet, join the discussions and provide feedback on our TorontoCSSubgroup facebook group.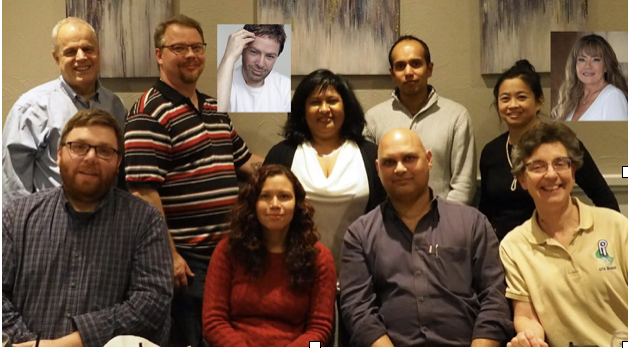 The Team:  (Back L-R) Bill,Kevin, Doug, Joanna, Dhammika, Judy, Yvonne (Front L-R) Mike, Karla, Roy, Nusin
Bill Sukloff, 

Member at large
bsukloff@pipsc.ca

Bill is a long time CS at the Toronto office of Environment and Climate Change Canada. He is an active union steward, and Branch President of the PIPSC Toronto Environment and Climate Change Branch. At the Departmental Labour Management Consultation Committee Bill advocates for members in areas such as career development opportunities, training, fair and transparent staffing processes, and a respectful workplace. He is an audiophile and enjoys classical music. 

Yvonne Snaddon, 

Member at large

Yvonne is currently a member of the National CS Executive and Bargaining Team.  She is a proud CS 02 with Employment and Social Development Canada. She began her union career as a Steward 15 years ago, and joined the Toronto CS Subgroup as a member at large. She moved through the ranks to become Subgroup Vice President and then President.  Yvonne has been a champion for Young Professionals and was the founder of the Ontario Region Young Professionals Committee. She loves yoga, kangoo and all animals.
Roy Philip, 

Member at large
royvphilip47@gmail.com

Roy started his career as technical support in the private sector in 1995.  Having moved around many jobs leading up to (the hype of!) Y2K, he sought some stability in his career & joined the Department of National Defence as a CS-2 in 2001.  In 2011, he moved to Shared Services Canada and currently supports various partner departments networking environments. Seeing a lack of union presence at work, and thinking it would be a good thing to raise awareness of various labour relations issues at his workplace, he became a steward in 2012.  As an Executive on the Sub-group, (and GTA Branch), he has organized lunch and learns, info sessions, retirement seminars, social events & even helped to recruit a colleague into union life. (Thanks Karla!) He is currently part of the regional NOC/ROC committee. He enjoys listening to and playing music, family time and the many good eats encountered with travel.

Karla Yelland, 

Member at large
kyelland@pipsc.ca

Karla has been involved with the Toronto CS Sub-group Executive as well as a PIPSC Steward since 2015.  She started her IT career in 2001 in the private sector and then eventually entered the public sector in 2008.  Karla works as a CS at the Department of National Defence. She has organized and been involved in events that raise the importance of a healthy workplace. She enjoys her vacation time camping, kayaking and spending time in the great outdoors with her family. Together we stand, divided we fall. 

Mike Kuenen, 

Member at large

Mike has recently joined the CS Sub-Group Executive and is excited to become more involved!  Mike has worked as a CS since 2006 working with Transport Canada as a Technical Systems Analyst.  He enjoys watching football & hockey with his friends and family and spending time at his family's farm

Doug Powless, 

Member at large
doug_powless@pipsc.ca

Doug has served off and on as a member-at-large. He has worked as a CS since 1996 and currently serves as a Team Leader. He enjoys and is skilled at writing.

Dhammika Wijayawardhana,
Member at large

Dhammika recently became a member of the CS Sub-Group executive in June 2019.  He has been a CS since 2002 working with Environment & Climate Change Canada and currently a Business analyst.  He likes to spend free time exploring nature, watching movies and playing sports.

Joanna Welby, Subgroup Vice-President
jwelby@pipsc.ca

Joanna has dedicated her career to ESDC and is currently with IT Change Management and Communications ensuring that employees are well advised and taken care of during this constant digital evolution of IT.  As a newer steward, she is keen to utilize her newfound knowledge and develop her skills in helping members with raising issues and seeking resolution on things like Phoenix and health and safety.  She is constantly working on home renos and whips up a delicious sticky toffee pudding!  

Kevin MacEwen, 

Treasurer

Kevin started his career in the federal public service in 1996 with Transport Canada as a CS-01. He has been with Shared Services Canada since 2011 working as a Technical Advisor within Directory Services team in the end-state environment. He joined the Toronto CS Sub-group Executive in 2018 and accepted the role of Treasurer shortly after that. He is currently the employee co-chair of the Occupational Health and Safety committee at 4900 Yonge St. Kevin enjoys spending time with his family and enjoys watching hockey and baseball.

Nuşin Brown, 

Secretary

Nuşin started her career in the Federal Public Service in 1990 with Health Canada Atlantic Region as a CS-1, moved to Ontario Region in 1997. She joined the Toronto CS Subgroup Executive in 2003 and became a Steward in 2010. Nuşin is currently the IT team lead for Health Canada CS staff in the GTA. She enjoys photography, the outdoors, skiing, reading and traveling with a camera.
Judy Chow,
Sub Group President 
jchow@pipsc.ca    

Judy is now with SSC however, she started her career with ESDC many moons ago when IT was in its infancy, when we were the "jack of all trades".  Fond memories of: dumb terminals, Saber LAN for Windows 3.1, Banyan Vines, cracking open PCs to add pricy RAM, swapping video cards, installing and merging servers, and where in IT support we *only* made in-person visits to do PC updates using 4.25" and 3.5" floppy disks!

She is an active union Steward and also part of the PIPSC Ontario Regional Executive who plays a role in engagement activities to raise awareness (amongst CS and all PIPSC members) that each of us have an important part of the greater collective to improve our working conditions by: arming ourselves with knowledge, asking questions and voting for decisions & executives.   She actively reaches out to members to increase awareness for: collective bargaining demands which everyone has a stake in, workplace concerns and other issues which affect Canadians as well, like: mental health care, respecting diversity, language rights, equality, Indigenous TRC Calls to Action etc. Besides enjoying crafts, humor and run on sentences, she firmly believes that "a rising tide lifts all boats".   Come join her in her creative ways to spread the word, raise the tides and to support each other in the quest for continuous improvement; isn't that what life is all about? #bettertogether
This Edition's focus:  Your PIPSC Membership Benefits
ServicePlus
ServicePlus is your member benefits program where you can take advantage of preferential rates, discounts and savings on a variety of products and services available exclusively to members. ServicePlus is a value added program. It does not cost you anything to have access to it. It is included with your membership.  Please visit the PIPSC Website for more information and to join the program.  Enter free contests and take advantage of the benefits.
Update your contact info please! 
To change your email, home and work address please visit the PIPSC Website www.pipsc.ca/member-tools/change-of-address.  By doing this it ensures we can reach you and that your union dues are directed to providing you assistance.  Share this with your colleagues.
Education Site on PIPSC Website
Members will be able to learn about the Institute's growing education programme and partake in learning opportunities offered by the Institute.
In addition to learning materials and resources, members will also find news articles pertaining to the Canadian labour movement, studies and papers from leading progressive institutes, books, movies and music about and for the labour movement. 
Access the E-Learning Portal, Mental Health Resource Guide and Lunch and Learn Request Form here: www.pipsc.ca/member-tools/education
PIPSC E-Learning Services
PIPSC offers training services to members. Ensure your contact information is up to date to receive updates on new courses through e-mail.  Sign up for an account here: www.pipsc.ca/member-tools/education/e-learning
Canada School of Public Service (CSPS)
CSPS offers all public servants many resources to access at your convenience: Online Courses, Job Aids, (templates, reference tools), and Events (seminars, info sessions) etc. applicable to inside and outside of work. Some key developmental tools such as training in French language and leadership can all be accessed through the site. Take advantage of these by visiting the CSPS site: www.csps-efpc.gc.ca/
Upcoming events:  Watch for email and Facebook notifications of:
Winter and Spring Lunch and Learns on: Collective Bargaining Updates, Phoenix Updates and IT Conversion, among other topics of interest

Spring Social with PIPSC GTA branch (of which we are all members)

Toronto CS subgroup AGM (to be held around June 2020)

PIPSC GTA branch AGM (to be held around May 2020)