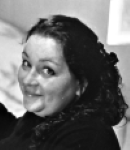 Our friend and colleague Allison Barr has passed away after a brief yet brave battle with cancer, on September 22, 2020.
We want to share our deepest condolences to her family, friends, colleagues, and fellow union members.  We will miss her for her good spirit, sense of humour, frankness, strong determination, and her caring qualities.
Allison was an active Ontario CFIA S&A steward for eight years, and had attended many union-management meetings, represented many members during this time, and often attended the annual Ontario Steward Councils.
One would only hear good things about her involvement, from union members, colleagues, and management.  Allison was always willing to step up to provide members with representation, whether it was for disability/mobility issues, Activity Based Workplace (ABW), advice, consultation, or provide advice, interpretation, and suggestions to management. She was well respected by everyone.
Since 2018, Allison had been involved with the discussions and activity of the St. Catharines offices incorporation to an ABW structure.  During the design phase of the new office, Allison was a strong advocate for the needs of the PIPSC members affected by this change.  She was very diligent in being informed, providing updates, and in bringing everyone together to discuss our needs to present a united message to management.
Allison worked at the Canadian Food Inspection Agency for the past 15 years, first starting in the Operations Branch as a Plant Protection Inspector and Officer for many years, before taking on the challenging role of National Specialist within the Plant Operational Guidance and Expertise team, Inspection Support Directorate.  She had also been in the news representing CFIA, educating the public and showcasing her immense knowledge of plants, plant health, and plant pests, such as this Peterborough ON article published in August 2013 for Emerald Ash Borer: https://www.thepeterboroughexaminer.com/news/peterborough-region/2013/08/22/peterborough-in-ash-borer-danger-zone.html
Allison's memorial may be found here: https://memorials.ccbscares.ca/allison-barr/4336072/obituary.php
Our thoughts are with Allison's family Susan Gammage, Eric and Desmond Behan, her nieces Angela and Jocelyn, and her family members and friends.