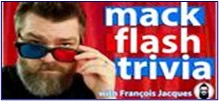 Come and play trivia with your AFS OTSO Sub-Group!
It may have been a while since you've heard from us, but trust that we're always here and always available to help!
Play Trivia, win prizes!
Watch for another event from us in the fall!
Date: Wednesday, July 14, 2021
Time: 7 p.m. – you can join as early as 6:45 p.m. to set yourself up!
Predominantly English text with sprinkles of oral French throughout.
Link: https://youtu.be/gwyotjzw-rs
Here is the link to the show (save this link to your YouTube Library (Save Later function)) so you don't forget!
Best if you play on your personal device, laptop, TV. Best way to play is to use the link on your smart TV (by saving the link in your You Tube account library and then logging in to YouTube from your TV) or send the feed to your TV using the casting feature from your personal device and chatting on your personal device.  You may have to create a YouTube account if you do not have one already set up. The chat function will be on in the trivia, you can communicate through that method as well regarding clarifying questions or general talk among players.
It is suggested you form teams if you wish to get help with trivia questions – you can discuss virtually on one system and listen to the host and questions on your personal device on the YouTube platform.
Answer sheets are not necessary. One can use a white board or paper. Record your own answers but don't put them in the chat. Please correct your own answers and use the honour system.
If you want to give it a try ahead of time go to the YouTube link www.youtube.com/MackFlash and select an old episode.
Mack Flash Entertainment – Do Something Different.
---------------------------------------------------------------------------
Info: www.mackflash.com
Watch: www.youtube.com/MackFlash
Follow: facebook.com/MackFlashEntertainment
Instagram: @mackflash
Subscribe: patreon.com/MackFlash
Just a friendly reminder who your executive members are!  All stewards for the AFS group, and their contact information, can be found here:
Stewards List | The Professional Institute of the Public Service of Canada (pipsc.ca)
President: Tom Iwinski
Vice-President: Matt Dufault
Treasurer: Burgess Antroliwalla
Secretary: Amanda Volpe
Member at Large: Bryan Adderley
Member at Large: Patrono Rodrigues
Member at Large: Tejinder Toor
Member at Large: Zita Parry
Member at Large: Sumit Katyal
Member at Large: Nitin Chowdhary