Health Canada (NCR) Branch

Your HC-NCR Branch Executives are inviting you and your immediate family members to our Annual Family Bowling Event. Two free games of bowling, complementary bowling shoe rental, pizza, a non-alcoholic beverage, and a chance to socialize with the families of your fellow HC members in the NCR are features of this favorite family event.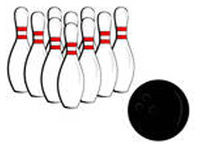 Date: Saturday, Sep. 16, 2017
Where: Walkley Bowling Centre, 2092 Walkley Rd, Tel 613-521-0132
Schedule: 11:45– 12:00 Participants check in, have teams and lanes assigned, find bowling shoes to fit, and either practice throwing a few balls, or eat some pizza
12:00 - 2:00 Games of bowling in teams
2:00 We need to wave goodbye, as others have rented the space.
Due to space limitations, only the first 200 bowlers can be accommodated. Therefore, please limit your guests to immediate family members, maximum five bowlers per member (member+4 family members), and sign up as soon as you know you can join us!
Register by e-mail to Mervat Mikhail at mmikhail@pipsc.ca before Aug.31, 2017, and include the following details.
Last Name
First Name
Work Telephone number
Email Address
Occupational Group (e.g. BI, CH, CS)
PIPSC Membership #
Total Number of Family Members including Yourself (please specify the children's age)
Choice of Pizza (Vegetarian / Meat Lovers)
You will be notified of your registration status via email. See you there!
The HC-NCR Branch Executives