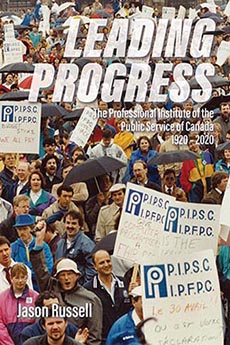 Leading Progress: The Professional Institute of the Public Service of Canada 1920–2020 by Dr. Jason Russell, Canadian labour historian, is now available to all members in an e-book (epub) format.
Published on the centennial of PIPSC's founding, Leading Progress is the definitive account of our evolution from 1920 to now – and a rare glimpse into an under-studied corner of North American labour history.
Author Dr. Jason Russell draws on a rich collection of sources, including archival material and oral history interviews with dozens of current and past PIPSC members. The story that unfolds is a complex one, filled with success and struggle, told with clarity and even-handedness.
After decades of demographic and generational shifts, economic booms and busts, and political sea change, PIPSC members will look towards our next hundred years with the same important mission that has guided us thus far: to advocate for social and economic justice that benefits all Canadians.
Get your free copy
Download your free copy of the e-book (epub) today: 
https://drive.google.com/drive/folders/1d1BtjV_vUd4AK3PyevR5y4HbtnC3NlAK?usp=sharing
Share it with your colleagues. 
Contact LAllan@pipsc.ca for a printed copy of the book.
About the book
The book has garnered praise:
 "Jason Russell's stirring and comprehensive history of the first century of PIPSC's innovative organizing among public professionals tells a marvelous story about the power of unionism – not just to lift the standards of work, but to build a stronger economy and society."
Jim Stanford, Economist and Director, Centre for Future Work
"Public sector unions remain one of the most vital structures for the protection of workers' rights, but they also underpin many important values of our democratic institutions, including independence, neutrality, the unbiased use of evidence, equal treatment, and inclusion. In this excellent history, Jason Russell reminds us that we cannot rely on politicians alone to protect the values of our democratic system, and PIPSC exists to defend not only their hard-won rights, but also the rights of all Canadians."
Ken Rasmussen, Director, Professor and Graduate Chair, Johnson Shoyama Graduate School of Public Policy, University of Regina
"Leading Progress fills an important gap in labour studies literature, as it considers public employees and professionals, two constituencies whose unions are often understudied. By looking at the history of PIPSC inside and out, it gives a voice to many staff, leaders, and members of the organization through extensive interviews, showing that a union is not only a structure but also the reflection of workers' identities and the ways they relate to their jobs as well as their communities."
Thomas Collombat, Associate Professor of Political Science, Université du Québec en Outaouais