UOITP Signing 2018
On February 22, 2018 the Institute and the University signed the UOITP collective agreement. The signing of the collective agreement follows the positive outcome of the Group's ratification vote held October 19-23, 2017. The tentative agreement was reached on September 21, 2017.
On the monetary front the economic increases are;
May 1 2017; 1.9%
May 1 2018; 1.7%
May 1 2019; 1.25%
In addition your pay will be increased on January 1, 2018 & 2019 by 0.8% to offset your pension contributions increases.
We believe we have reached the best negotiated deal possible in what has been a very challenging round of bargaining. Although we have completed the table negotiations, we still have a lot of hard work ahead of us. The issue of contractors doing the work of the bargaining unit continues. A number of lunch and learns are being planned to highlight the provisions of your collective agreement and the outsourcing of IT work on the campus.
The Group wishes to thank all the members for their solidarity and support and especially express our appreciation to the bargaining team members; Sean Ford, Yannick Charbonneau, Paul Deveau, Marc Boisvenue, & Mike Murphy.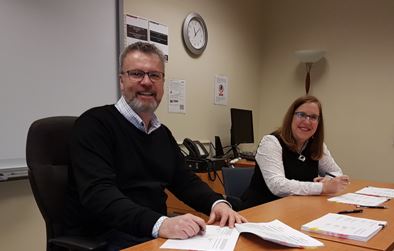 Photo: Yves Mercier, University of Ottawa and Denise Doherty, UOITP Negotiator
Photo Credit: Mike Murphy UOITP