PIPSC NRC Newsletter February 2018 - RO/RCO Group

Research Officers and Research Council Officers Group Executive Members (2018)
President Cathy Cheung Ottawa
Vice-President Devanand Pinto Halifax
Secretary Mary Zborowski Ottawa
Treasurer Keith Yeung Victoria
Chief Steward Stephan Grosse Montréal
Member-at-Large Daniel Durand Victoria
Member-at-Large Patricia Loder Goose Bay
Member-at-Large Suwas Nikumb London
Member-at-Large Carsen Banister Ottawa
Member-at-Large Craig BihunOttawa
Member-at-Large Feng Ni Montréal
Please print this newsletter and post it on the union bulletin board in your facility. If you don't have a union bulletin board or are not sure where it is, contact us: rorco@pipsc.ca. Past newsletters and other updates from our group are available from our website: http://www.pipsc.ca/groups/nrc-ro-rco
Report from the NRC RO/RCO group president, Cathy Cheung
Greetings to all!
As some of you know, Susan O'Donnell, who has been RO/RCO Group President since December 2014, retired from NRC last January 2017. She stayed on with the RO/RCO Group Executive through 2017 as the Group President, but did not stand for re-election in December 2017. Susan has been a tremendous leader for the RO RCO Group and for PIPSC in the Scientific Integrity and Women in Science efforts and has inspired many new stewards and building reps to get involved, myself included. We also say farewell to several other long-standing Group Executive members who also did not seek re-election in December – Daryl Wong, Jeff Zidichouski, and Serguei Koutcheiko. Daryl has served on the Executive for over 10 years, including on three bargaining teams and Consultation, as well as RO RCO Group President for 2 separate periods in the tumultuous times of WFAs in the early part of this decade. Jeff completed 3x2-year terms on the Group Executive from his time in Charlottetown as a RO through his transition to an IRAP ITA in Calgary. Serguei served the Group Exec for two years providing valuable insight into the changes at NINT in Edmonton. Thank you all for the time and energy you have volunteered in support of the RO RCO Group.

So that means we have a new Group President, and that person is me. My name is Cathy Cheung. I've been a Research Officer in the Aerospace Research Centre since 2003. I work in Building M-14 on the Montreal Rd Campus in Ottawa and my current research area is aircraft structural integrity. This is my second year on the RO RCO Group Executive and I also serve on the Bargaining Team, the newly formed RO RCO NCR Subgroup, and the NRC Call for Action Working Group. I plan to continue in Susan's footsteps promoting a positive and collaborative relationship between our Group and the NRC management.
We have a great group of ROs and RCOs on the Executive this year with several new faces. A warm welcome to new Executive members Carsen Banister (CONST, Ottawa), Suwas Nikumb (AST, London), Craig Bihun (HHT, Ottawa), and Feng Ni (HHT, Montreal). We also benefit from the experience and knowledge of our returning members – Pat Loder (IRAP, Goose Bay), Stephan Grosse (ACRD, Montréal), Dev Pinto (HHT, Halifax), Mary Zborowski (retired, Ottawa), Keith Yeung (HAA, Victoria), and Daniel Durand (HAA, Victoria).
At the end of 2017 and beginning of 2018, we saw tremendous uptake by our members of our mobilization activities around bargaining – we had the Better Together pin campaign in October and the T-shirt campaign in December and February. Thank you to all those who have participated so far, and also to the building reps across NRC and the NCR subgroup exec for assisting with these efforts. We hope to build on this momentum this year and keep you all engaged.
Moving into 2018, here's a short list of what we can look forward to this year:
conclusion of the current round of collective bargaining negotiations,
implementation of the new RO promotion criteria,
start of the revision of the non-research RCO and ITA promotion criteria,
implementation of early Dialogue actions,
and start of the next round of collective bargaining negotiations.
Although this round of collective bargaining is still underway, we have already started discussions for the next round of collective bargaining at the PIPSC level, working with other science-based groups in the government as well as with RCEA to identify common bargaining priorities. A bargaining survey will be prepared in the next few months that will be sent out to all members for input to guide our bargaining position for the next round.
We plan to hold four on-site meetings with RO/RCO members this year. Please mark your calendars and take advantage of the opportunity to meet with your Group Executive and ask questions:
May 11 – Saskatoon
Jun 14– Ottawa M-36
Sep 14 – Charlottetown
Dec 7 – Ottawa M-50
We've got a busy year ahead and I look forward to hearing from members and updating everyone on the Group's efforts!
Cathy Cheung
Call for participation for the next round of bargaining

Although the current round of bargaining has not been completed yet, we are starting preparations for the next round of bargaining which we plan to launch as soon as this round is over. In order to start the process, we are calling out for volunteers to serve on the RO/RCO bargaining team. While some seats are reserved for members of the executive, there is an opportunity for some of you to be part of this team and help us make a difference by improving working conditions for all ROs and RCOs. Although the participation requires a significant time commitment and some basic training from PIPSC, this is a great opportunity to learn about the needs of your colleagues and NRC.

If you are interested, please send an email with a short paragraph about why you want to be part of the team to rorco@pipsc.ca by June 29, 2018.
PIPSC Supported Social Functions in 2017
To promote a good work-life balance for our members, the RORCO executive committee encourages and supports social events at various NRC work sites each year. In 2017, the committee supported eleven social events from coast to coast including a golf tournament in St John's, a solar eclipse BBQ at HAA in Victoria and a beach BBQ for EME and IRAP members in Vancouver. All the social events were well attended and the supports from the PIPSC RORCO group were much appreciated. Here are a few pictures of the events and a note from Alison Platt, the organizer of the beach BBQ in Vancouver.
"The Vancouver EME and IRAP teams got together on July 28th for a summer BBQ at Locarno Beach. It was a beautiful day and over 50 employees and some family members came out to enjoy the food and games. We would like to thank PIPSC for their generous support of this event for the second year in a row. This afternoon of fun away from the office has an immeasurable impact on the social fabric of our Vancouver teams. We wouldn't be able to make it happen to the same extent without financial support from PIPSC – thank you!"
The amount of funding allocations for these events are limited and allocated on a first come first serve basis.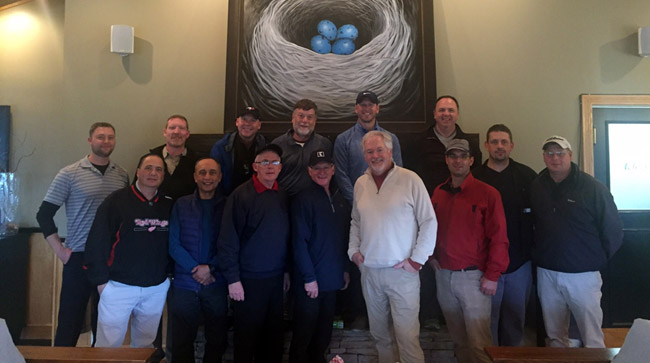 OCRE Trent Slade Annual Golf Tournament in St John's on October 2018.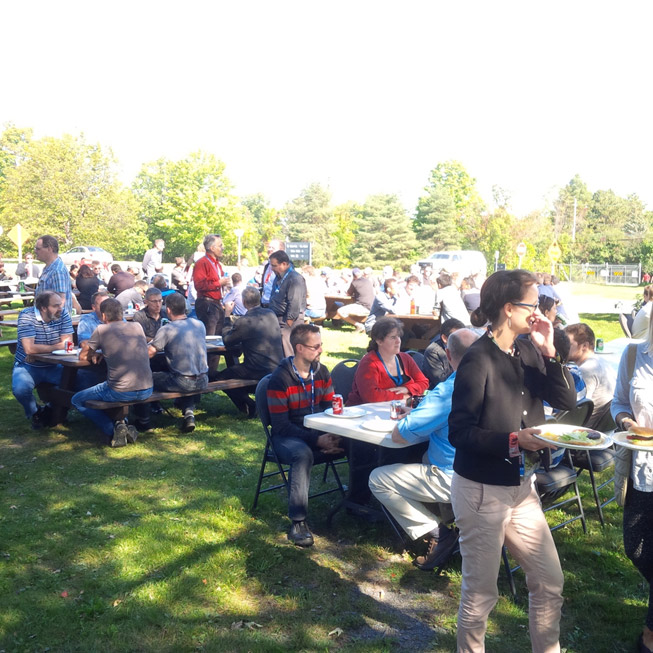 Aerospace BBQ in Ottawa, October 3, 2017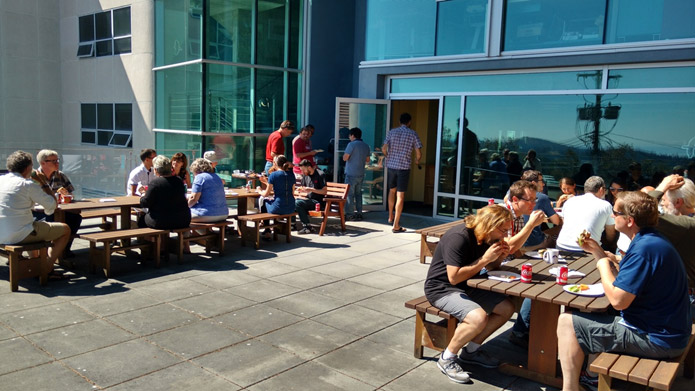 Herzberg Astronomy and Astrophysics – Victoria, Solar Eclipse BBQ, August 21, 2017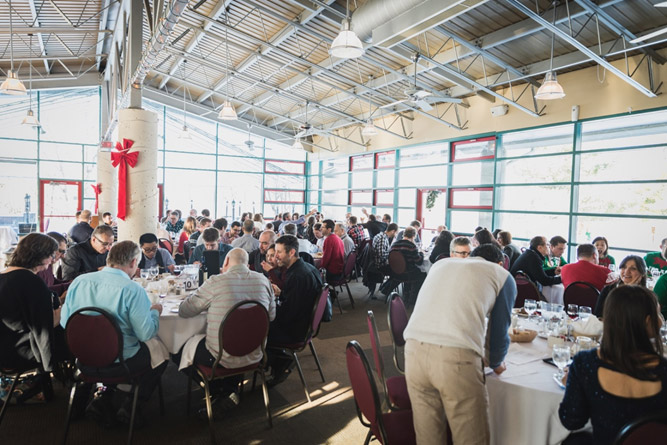 Annual Christmas Luncheon at Boucherville Research Center, December 20, 2017.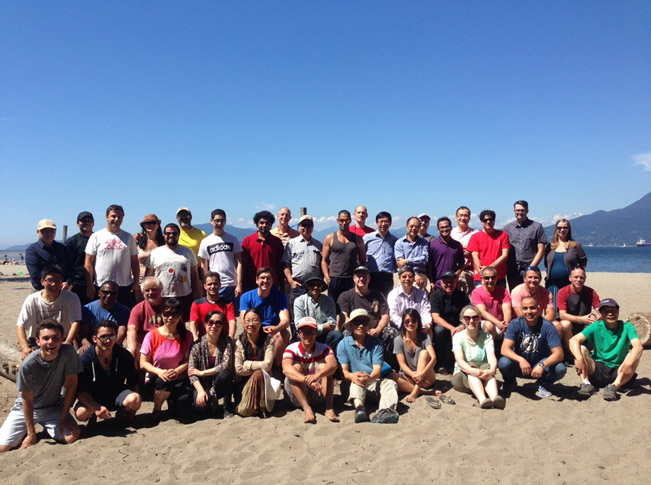 EME-Vancouver/IRAP summer BBQ at English Bay, Vancouver, July 28, 2018.
PIPSC RO/RCO Group-supported Events
If you would like to apply for some funding for your event, please tell us the date and your building/portfolio/branch and the number of attendees, the RO/RCO executive group will gladly provide some financial support for your event. The support we can offer does vary depending on the number of attendees. For example, $200 will be provided for 20 attendees and $400 for 40 attendees
Detailed guidelines for the support are given as follows
Every RO/RCO member in your building, portfolio or branch should be included in the invitation to the event.
The Group will support one request per year per building/portfolio/branch.
Any request should be sent to rorco@pipsc.ca, and also to the Treasurer of the RO/RCO executive committee (listed on http://www.pipsc.ca/portal/page/portal/website/groups/nrc-ro-rco/exec).
Funding will be provided based on the actual number of RO/RCO members attending the event.
Funding formula:

20 or fewer members, $20 per member, maximum $200.
Additional 20 members (21-40), $10 per member, maximum $200.
Additional 20 members (41-60), $5 per member, maximum $100.

Members attending must be informed that the event was supported by the PIPSC NRC RO/RCO group and that more stewards are needed to represent our members.
A photo of the event and a sign-up sheet must be sent along with the receipt for reimbursement to rorco@pipsc.ca and also to the Treasurer of the RO/RCO executive committee.
The reimbursement is the total amount on the receipt(s) or the amount determined by the funding formula above, whichever is less.
Looking forward to hearing from you soon!
Ongoing call for Location-based Representatives

The NRC RO/RCO Group is seeking volunteers to serve as local representatives for the RO/RCO Group in their respective Research Centres/Division. Generally, there is one representative per Research Centre/Division. When a Research Centre has multiple locations, it is good to have a representative in each location.
If anyone is interested in volunteering a small portion of your time to serve as an Location -based representative, please send an email message to rorco@pipsc.ca .
RO/RCO Executive Committee Meetings; As NRC has many physical locations across the country, executive visits will normally occur once every 6-7 years at the regional facilities and every year in Ottawa where about half our members are based. However, if you feel a pressing need for the executive to visit your workplace sooner rather than later, please contact the executive at rorco@pipsc.ca .
PIPSC's has dedicated team of EROs hired full time to provide you with labour relations representation and advice as and if needed to you. Note that there have been some recent changes in the Prairie Provinces with regard to the provision of ERO support.
PIPSC Employment Relations Officers (EROs) for all the NRC groups in Ottawa (NCR) are as follows:
For National Research Council Members in Business & Professional Services,Business Management Support, Corporate Management/Finance, Emerging Technology Division, and the President`s Office, your local ERO is Christine Poirier. She is located at the PIPSC National Office at 250 Tremblay Road, Ottawa and can be reached by email, cpoirier@pipsc.ca,or by telephone at (613)228-6310, or 1(800)267-0446, extension 4763.
For National Research Council Members in the Engineering Division or Life Sciences Division, your ERO is Bruno Hamel. He is also located at 250 Tremblay Road, Ottawa and can be reached by email, bhamel@pipsc.ca or by telephone at (613)228-6310 or 1(800)267-0446.
The EROs for all NRC in other regions are: Atlantic - Max Way mway@pipsc.ca, Quebec – Robert Melone rmelone@pipsc.ca, ONTARIO outside of the NCR - Sara Guillaumant-Fitzgerald sguillaumantfitz@pipsc.ca, Manitoba and Saskatchewan- Jeffrey Ryder jryder@pipsc.ca, Alberta – Kris Hawkins khawkins@pipsc.ca
and for BC/Yukon – Dulce Cuenca dcuenca@pipsc.ca.
Full contact info for the regional EROs can be found using the following link and then by clicking on your ERO's name: http://www.pipsc.ca/about/contact-us/staff

Email - receive PIPSC correspondence by email. There is a Secure web link to fill out a form
You can specify an email address of your choice. The messages sent are very short as they generally do not contain any information, but direct you to a specific part of the PIPSC web site.
ServicePlus is the PIPSC member benefits program. Using this program, you can save money on a variety of products and services. For more details, go to
https://www.serviceplusgroup.ca/
Rent a car from Avis, travel on VIA Rail, stay at a Delta Hotel, clothe yourself at Mark's Work Warehouse or buy a Toshiba or Apple computer, all at a discount.