PIPSC NRC Newsletter March 2019
RO/RCO Group
Research Officers and Research Council Officers Group Executive Members (2019)
President Cathy Cheung Ottawa
Vice-President Craig Bihun Ottawa
Secretary Mary Zborowski Ottawa
Treasurer Keith Yeung Victoria
Chief Steward Stephan Grosse Montréal
Member-at-Large Daniel Durand Victoria
Member-at-Large Alex Ko Winnipeg
Member-at-Large Suwas Nikumb London
Member-at-Large Carsen Banister Ottawa
Member-at-Large Dev Pinto Halifax
Member-at-Large Feng Ni Montréal
Please print this newsletter and post it on the union bulletin board in your facility. If you don't have a union bulletin board or are not sure where it is, contact us: rorco@pipsc.ca. Past newsletters and other updates from our group are available from our website:
http://www.pipsc.ca/groups/nrc-ro-rco or http://www.pipsc.ca/fr/groupes/cnrc-ar-acr
Report from the NRC RO/RCO group president, Cathy Cheung
Happy New Year to all! I hope you had a restful December shutdown and are re-energized for the sprint to the end of fiscal year!
It was an extremely busy year in 2018 for the RO RCO group highlighted by collective agreement negotiations which concluded in March 2018, the roll-out of the new RO promotion criteria for the July 2018 round, implementation of the new NRC Research and Scientific Integrity Policy in December 2018, and our four local visits with members through the year. One of our key priorities was maintaining strong relationships with NRC senior managers as well as with PIPSC and RCEA leaders through consultation activities in order to raise member issues and address them quickly. The table below summarizes many of our activities through 2018.
I am very proud of the Executive's efforts and dedication the last year and would like to thank these brave individuals for stepping up and volunteering their time and energy for the group. I would also like to recognize the hard work of our stewards in representing members and protecting their rights, as well as acknowledge the efforts of the building reps and subgroups in supporting the Group's activities and increasing visibility of PIPSC in the workplace.
For 2019, our activities will involve bargaining again, urging NRC to progress with updating the IRAP Industrial Technical Advisor (ITA) and non-research RCO criteria, improving understanding and consistency of the 1950 hour work schedule, strengthening our steward network, and improving communications with RO and RCO members.
Main priorities and activities 2018
Bargaining and mobilization
Consultation
Promotion criteria
Meetings with members and local managers
Steward engagement
Representing members (grievances)
Mental health
Group documents, G-suite collaboration tools
Links with subgroups
Consultation activities 2018
Joint Consultation Committee
Local labour management consultation committees
National Committee Occupational Safety and Health
Research and Scientific Integrity Policy
Promotion criteria
Performance Improvement Plan
Call For Action Working Group
Harassment Policy
Bilaterals with NRC president
The RO RCO group held our AGM on December 7, 2018 in Ottawa at Building M50 with guest speaker Dr. Jennifer Veitch, a Principal Research Officer at NRC Construction and Member, President's Research Excellence Advisory Committee (PREAC). The terms of 8 Exec members were up for re-election at the AGM. I'm pleased to report that almost all the RO RCO Executive has returned with one new addition from Winnipeg and the Medical Devices Research Centre. Welcome to Alex Ko! Patricia Loder, from IRAP in Labrador, has stepped down from the Group Exec after many outstanding years of service; however we are fortunate that she will continue to serve as NRC Consultation President. I will continue in the role of Group President for 2019 and I look forward to meeting more ROs and RCOs during local visits and other NRC events.
Best wishes,
Cathy Cheung
---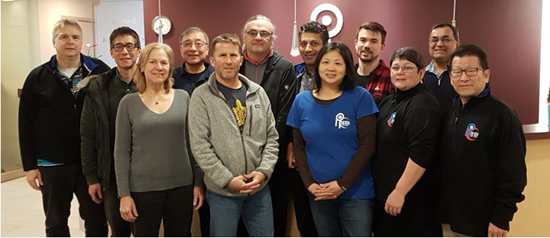 2018 and 2019 RO RCO Group Executive
From left to right: (back row) Stephan Grosse, Alex Ko, Keith Yeung, Daniel Durand, Dev Pinto, Carsen Banister, Suwas Nikumb; (front row) Mary Zborowski, Craig Bihun, Cathy Cheung, Pat Loder, Feng Ni
Bargaining update:
Our latest collective agreement was signed on August 9, 2018. Most of the retro pay and salary updates were completed in November 2018 through January 2019. With the issues around the Phoenix pay system highlighted by the retro pay and salary update difficulties, it is important that everyone checks their pay stub on a regular basis to ensure that their pay is correct.
Since the collective agreement expired on July 19, 2018, bargaining preparations for the next collective agreement are well underway! The new bargaining team was chosen over the summer which included an open call to all members to submit their interest in joining the team. The new bargaining team has met several times including for training, to develop the bargaining survey, and to review the survey results and identify priorities for the upcoming bargaining round. The team continues to meet regularly in preparation for negotiations with the employer. There is also a separate PIPSC-RCEA team that is currently negotiating with NRC to update the NRC Workforce Adjustment (WFA) policy. Keep an eye out for Bargaining Updates in the coming months!
2018 PIPSC Legacy Foundation Scholarship Winners
The PIPSC Legacy Foundation promotes the values of professionalism and service to community by awarding scholarships and bursaries to students of PIPSC members pursuing post-secondary education. In 2018, RO RCO students won 5 of 21 PIPSC scholarships! Congratulations! If your child or grandchild is entering 1st year university in September 2019, the next application deadline is July 12, 2019 (http://www.pipsc.ca/portal/page/portal/website/legacy).
Laureate

RO RCO member

Location

Scholarship

Alicia Shen

Chun Fang Shen

HHT

Montreal

Founders' scholarship $1000

Chloe Ryan

Mark Newman

ASPM

Ottawa

Sponsors' Series scholarship $5000

Catherine Guo

Hongsheng Guo

EME

Ottawa

Sponsors' Series scholarship $1500

Patricia Kennedy

Bob Kennedy

BMS

Fredericton

Sponsors' Series scholarship $1500

Morgaine Saskia van Beers

Doug Johnstone

HAA

Victoria

Sponsors' Series scholarship $1500
NRC RO/RCO Get Active Challenge
Are you physically active regularly or looking to increase your level of activity? Would you like an athletic shirt to help you do so, and at the same time promote your membership in PIPSC?
The RO/RCO Group Executive in collaboration with PIPSC Better Together campaign will distribute some high-quality athletic shirts to highlight and encourage its members' physical activities.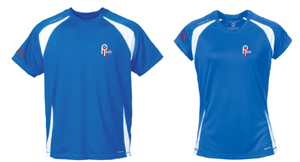 Tell us where you would wear your shirt - maybe a community road race, cycling event, or a power walk during the lunch hour. Then promise to send us a photo of yourself wearing the shirt in your activity so that we can enrich our Group`s Newsletters.
Also consider wearing the shirt during any bargaining mobilization events or Group social activities!
The top entries to this challenge, as determined by the Executive Board will receive a shirt. The deadline to apply is April 15, 2019.
Please send your response to rorco@pipsc.ca with the subject line "Get Active Challenge". Include the following in the message
- First Name
- Last Name
- Shirt specifications (male M,L,XL and female S,M,L)
- Where you would like to have the shirt sent
- Where and for which activities you will wear your shirt
Thank you for your support and kudos to you for staying fit!
Social Event Summary
In 2018, the PIPSC RO-RCO Group has supported a number of social events at various NRC locations including Christmas luncheons at IRAP Quebec, Nanotechnology, Business Management Support, Metrology, Aerospace, Automative and Surface Transportation/London, Boucherville. The group also supported special events such as a solar eclipse BBQ at Herzberg Astronomy and Astrophysics in Victoria, a golf tournament at Ocean Coastal and River Engineering in St John's and a team building event at Advanced Electronics and Photonics in Ottawa.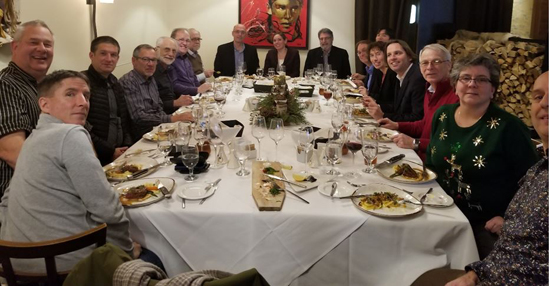 IRAP Quebec Christmas Luncheon

Nanotechnology Edmonton, Christmas luncheon

BMS Ottawa Christmas luncheon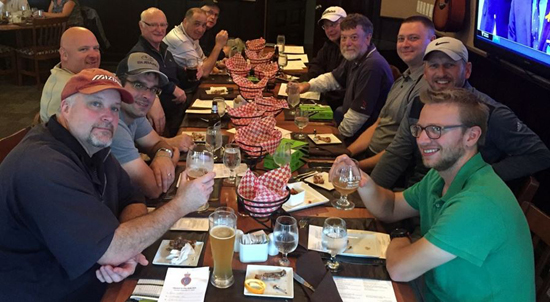 OCRE St John's golf tournament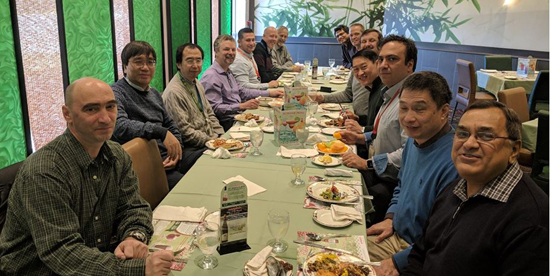 AST-London Christmas luncheon

HAA Victoria solar eclipse BBQ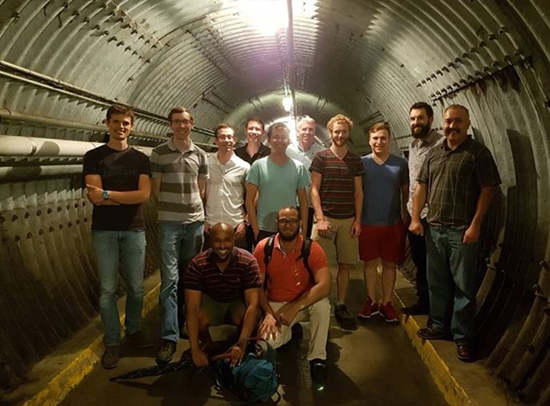 Advanced Electronics and Photonics team building event in Ottawa
Management actions at NRC and self-help practices
prepared by Feng Ni, Ph.D. PIPSC steward and Member of the PIPSC NRC RO/RCO Group Executive, October, 2018
In the last Group Newsletter (published at the end of Summer 2018), we surveyed the current concept of "Mental Health in the Workplace" and outlined, in particular, the phenomenon of "Digital Dependence" as one potentially important contributor to work stress and erosion of mental health in the workplace. Since then, we have learned of special initiatives that are being launched at NRC and a 2015 Report of the House of Commons Standing Committee on Health that contains recommendations of self-help practices to curb some detrimental side effects of digital and wireless technologies, which we will summarize here.
Mental Health Initiatives at the NRC. As mentioned in the previous Newsletter, NRC employees have been encouraged to actively participate in wellness activities, but there has been no clear corporate policies how to manage the time expended in such activities, especially for organizing and the promotion of mental health initiatives. Our union (PIPSC) has been involved with PSAC (Public Service Alliance of Canada) and the Treasury Board on a strategy to address mental health in the workplace and, according to the March 2018 minutes of the NRC JCC (Joint Consultation Committee) meeting, PIPSC representatives inquired "if NRC was also working on a formalized plan for the integrated protection of the mental health of their (NRC) employees".
The NRC JCC meeting takes place several times a year and is the highest labor-relations forum at the NRC with representatives from the RCEA (Research Council Employees Association), PIPSC and the senior management of NRC, especially the SEC and the Human Resources Branch. According the President of the RCEA, in attendance at this JCC meeting, the National Joint Council (NJC) Service-Wide Committee on Occupational Health and Safety (OH&S) has been discussing "revising the Guarding Minds at Work (GM@W) survey... allows (to allow) employers to assess and address 13 mental health and social psychological factors scientifically proven to have an impact on the health of the organization". It was acknowledged at this meeting that "...NRC did not receive high marks in the area of mental health on the recent (December, 2017) Public Service Employee Survey (PSES), ... (even though) the number of questions specifically related to mental health had been reduced...". The management acknowledged that "...NRC does not currently have a strategy on mental health, a detailed proposal was made by the Director of Health and Safety to the SEC, who endorsed it within the broader Dialogue development and implementation".
During the March 2018 JCC meeting, NRC management also made a commitment to provide the JCC with regular updates. For example, the Health and Safety Tiger Team included mental health and subsequently the Health, Safety, and Environment Branch was created. A review initial activities underway was finalized so that a consultant could be hired to develop a Mental Health Strategy for NRC. In the June 2018 JCC meeting, it was announced that the Health, Safety and Environment Branch will be split into two entities, one devoted to Safety and Environment and the second to be focused on Health, especially mental health in the workplace.
Curbing the physical hazards of "Digital Dependence": In the last Newsletter (of July 2018), we call attention to the arising societal problems of screen addition or digital dependence in the current (internet) era of instant connectivity. We emphasized that computers and screen work must also contribute substantially to stress for us employees in a technology-intensive organization such as NRC, where we spend a large part of our working time using computers to retrieve, analyze and communicate information. In fact, the "Search Inside Yourself" meditation and mindfulness movement for the corporate world was started at and promoted by Google (Ref. 1), arguably the world's most digitally-connected commercial organization.
While recent studies drew a parallel between the rise of mental health issues and escalated use of electronic devices (Ref. 2), there is also an increasing body of evidence for the (physical) health hazards of artificial electromagnetic fields, especially the Wi-Fi and cellular signals, used by almost all small computers (i.e. laptops, tablets, smart phones and even computer mouses and keyboards) (Ref. 3). In addition, all computers and other electronic devices use innate electromagnetic field pulses (called the Clock Signal, see Ref. 4), which, for example, can be from 1 GHz to 4 GHz for computers, normally referred to as the CPU speed. In comparison, typical cellular towers broadcast (to laptops, tablets or the smart phones) at 850 MHz, 900 MHz, 1900 MHz (i.e. 1.9 GHz) or 2100 MHz (2.1 GHz) etc, while Wi-Fi routers run at either 2.45 GHz or 5 GHz. Regardless of the origins, these electronic "sparks" or electromagnetic fields of very high frequency are at the heart of recent debates concerning the health hazards of artificial electromagnetic radiation (Ref. 3a). As a consequence, a special report was made (Ref. 5) to the Parliament of Canada in June 2015 by the House of Commons Standing Committee on Health, which emphasized the need to take a precautionary approach and measures to protect populations from RF (over-)exposure (Ref. 5b). Measures for reducing exposure can include, to quote directly from the Report (page 22 of Ref. 5b),
• Keeping cell phones away from the head by using the speaker or air tube earbuds;
• Using wired phones in the home instead of cordless ones;
• Using an Ethernet connection instead of Wi-Fi in the home;
• Putting Wi-Fi on a timer so that it is not on while you are sleeping;
• For children, keeping iPads on "airplane mode" or using an Ethernet connection;
• For pregnant women, keeping wireless devices away from the abdomen; and
• For men, not carrying cell phones in a front pants pocket".
This special Report to Parliament concludes that ".... the potential risks of exposure to RF fields are a serious public health issue that needs to be brought to the attention of Canadians so that they have the knowledge to use wireless devices responsibly and are able to make decisions about the use of wireless devices in a manner that protects their health and the health of their families.".
Looking the third and fourth items in this list (concerning Wi-Fi), one may immediately notice a Wi-Fi switch on the many green laptops (see the picture below for an example) installed in our offices at NRC.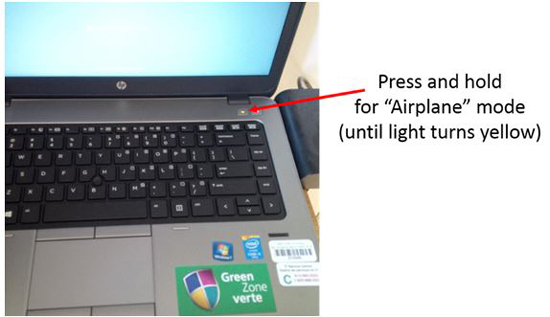 The author was reminded by an IT specialist (working at the Montreal Royalmount Site) only recently that this laptop had Wi-Fi broadcasting activated since it was installed, which should have been turned off (on "airplane mode", see above) as it is already connected to NRC's corporate network via the green Ethernet cable. Related to the second item above (i.e. cordless phones), one wonders how many of us switched from the apparently "cumbersome" computer mouse and keyboard with wires to the more "convenient" cordless ones? Does the convenience really worth the electromagnetic fields cordless devices radiate considering potential health hazards and bodily stress we may experience? Clearly, we as individuals can benefit greatly from being "...educated about shielding and protecting themselves so that they can navigate through the day and be able to do their jobs", as declared by Dr. Riina I. Bray, a medical specialist in environmental health at the Women's College Hospital, University of Toronto in her testimony during the Standing Committee on Health's deliberation on April 28, 2015 (Ref. 3a).
Key Resources Reference:
(1) Search Inside Yourself: <https://www.mindful.org/search-inside-yourself>.
(2) Digital dependence and stress: Jean M. Twenge, Thomas E. Joiner, Megan L. Rogers, and Gabrielle N. Martin, "Increases in Depressive Symptoms, Suicide-Related Outcomes, and Suicide Rates Among U.S. Adolescents After 2010 and Links to Increased New Media Screen Time", Clinical Psychological Science (2018), Vol. 6(1) 3-17.
(3) Health hazards of over-exposure to artificial electromagnetic fields: (a) Martin L. Pall "Scientific evidence contradicts findings and assumptions of Canadian Safety Code 6: microwaves act through voltage-gated calcium channel activation to induce biological impacts at non-thermal levels, supporting a paradigm shift for microwave/lower frequency electromagnetic field action", Rev. Envrion. Health (2015), Vol. 30, 99-116; (b) Martin L. Pall "Wi-Fi is an important threat to human health", Environmental Res. (2018), Vol. 164 405-416.
(4) Clock signal of digital computers: <https://en.wikipedia.org/wiki/Clock_signal>.
(5) Health Canada Safety Code 6 investigated by the House of Commons Standing Committee on Health: (a) <https://openparliament.ca/committees/health/41-2/58>; (b) 13th Report of the Standing Committee on Health, 'Radiofrequency electromagnetic radiation and the health of
Reporting hours of work
The Executive wishes to remind members of the importance of accurately recording working times in the SAP Sigma system. While we recognize that this activity is generally considered a nuisance by many people, knowledge of accurate working times is vital for collective agreement negotiations. The data collected in Sigma are used to understand the working conditions of members and form the basis of negotiations related to pay, vacation time, and other benefits. Quite simply, it is difficult for our negotiators to argue that the membership is working more than 1950 hours/year when the members only enter in the minimum required hours. Another important reason for accurately recording working times is so that NRC can accurately determine the cost of projects.
For members on 1950 hours/year, please enter accurate hours under the "1000" time coding for Monday to Friday. Weekend and holiday hours can be recorded under the "1040" time coding. For members on 37.5 hours/week, hours worked in addition to regular attendance hours (code "1000"), should be recorded under the "1010" time coding.
NRC-RO/RCO National Capital Region Subgroup
THE NRC RORCO NCR Subgroup held or supported a number of events in 2018 including its AGM on September 19th at M36, a lunch and learn on the new Employee Wellness and Support Program (EWSP), a frisbee golf and ice cream social, an NRC curling tournament and the NRC / CSIS / CSE 5 km run in support of the Government of Canada Workplace Charitable Campaign (GCWCC). The subgroup also supported a number of member organized events within the buildings and branches of the National Capital Region. We thank all of our members for organizing these events and taking the time to make the workplace better for you and your colleagues.
Louis Poirier
NCR RORCO National Capital Region Subgroup President

Frisbee golf and ice cream social event outside M50 organized by the RO RCO NCR subgroup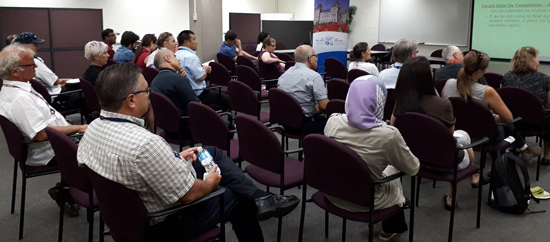 EWSP lunch and learn at M55 organized by the RO RCO NCR subgroup
PIPSC RO/RCO Group-supported Events
If you would like to apply for some funding for your event, please tell us the date and your building/portfolio/branch and the number of attendees, the RO/RCO executive group will gladly provide some financial support for your event. The support we can offer does vary depending on the number of attendees. For example, $200 will be provided for 20 attendees and $400 for 40 attendees
Detailed guidelines for the support are given as follows
Every RO/RCO member in your building, portfolio or branch should be included in the invitation to the event.
The Group will support one request per year per building/portfolio/branch.
Any request should be sent to rorco@pipsc.ca, and also to the Treasurer of the RO/RCO executive committee (listed on http://www.pipsc.ca/portal/page/portal/website/groups/nrc-ro-rco/exec).
Funding will be provided based on the actual number of RO/RCO members attending the event.
Funding formula:

20 or fewer members, $20 per member, maximum $200.
Additional 20 members (21-40), $10 per member, maximum $200.
Additional 20 members (41-60), $5 per member, maximum $100.
Members attending must be informed that the event was supported by the PIPSC NRC RO/RCO group and that more stewards are needed to represent our members.
A photo of the event and a sign-up sheet must be sent along with the receipt for reimbursement to rorco@pipsc.ca and also to the Treasurer of the RO/RCO executive committee.
The reimbursement is the total amount on the receipt(s) or the amount determined by the funding formula above, whichever is less.
Looking forward to hearing from you soon!
Ongoing call for Location-based Representatives
The NRC RO/RCO Group is seeking volunteers to serve as local representatives for the RO/RCO Group in their respective Research Centres/Division. Generally, there is one representative per Research Centre/Division. When a Research Centre has multiple locations, it is good to have a representative in each location.
If anyone is interested in volunteering a small portion of your time to serve as an Location -based representative, please send an email message to rorco@pipsc.ca .
RO/RCO Executive Committee Meetings; As NRC has many physical locations across the country, executive visits will normally occur once every 6-7 years at the regional facilities and every year in Ottawa where about half our members are based. However, if you feel a pressing need for the executive to visit your workplace sooner rather than later, please contact the executive at rorco@pipsc.ca.
PIPSC's has dedicated team of EROs hired full time to provide you with labour relations representation and advice as and if needed to you. Note that there have been some recent changes in the Prairie Provinces with regard to the provision of ERO support.
PIPSC Employment Relations Officers (EROs) for all the NRC groups in Ottawa (NCR) are as follows:
For National Research Council Members in Business & Professional Services,
Business Management Support, Corporate Management/Finance, Emerging Technology Division, and the President`s Office, your local ERO is Christine Poirier. She is located at the PIPSC National Office at 250 Tremblay Road, Ottawa and can be reached by email, cpoirier@pipsc.ca,or by telephone at (613)228-6310, or 1(800)267-0446, extension 4763.
For National Research Council Members in the Engineering Division or Life Sciences Division, your ERO is Bruno Hamel. He is also located at 250 Tremblay Road, Ottawa and can be reached by email, bhamel@pipsc.ca or by telephone at (613)228-6310 or 1(800)267-0446.
The EROs for all NRC in other regions are: Atlantic - Max Way mway@pipsc.ca, Quebec – Robert Melone rmelone@pipsc.ca, ONTARIO outside of the NCR - Sara Guillaumant-Fitzgerald sguillaumantfitz@pipsc.ca, Manitoba and Saskatchewan- Jeffrey Ryder jryder@pipsc.ca, Alberta – Kris Hawkins khawkins@pipsc.ca  and for BC/Yukon – Dulce Cuenca dcuenca@pipsc.ca.
Full contact info for the regional EROs can be found using the following link and then by clicking on your ERO's name: http://www.pipsc.ca/about/contact-us/staff
ServicePlus is the PIPSC member benefits program. Using this program, you can save money on a variety of products and services. For more details, go to
https://www.serviceplusgroup.ca/
Rent a car from Avis, travel on VIA Rail, stay at a Delta Hotel, clothe yourself at Mark's Work Warehouse or buy a Toshiba or Apple computer, all at a discount.