PIPSC NRC Newsletter January 2019
Emergency Newsletter related to your Back Pay
Friday, December 7th was the implementation deadline for NRC management to issue your retroactive pay and implement the new pay scale. That date was, according to the new collective agreement, 120 days after the new contract was signed (August 9, 2018).
Most, if not all, of us have received our back pay and, in addition, our new pay scales have now been implemented. However, according to comments we have received and as indicated in reports supplied by NRC Human Resources, many of us are still affected by back pay computation errors.
First of all, if you have had deviations over the past 4 years from a regular pay cycle such as  "Leave without pay", "Maternity leave", or "Parental leave" to name a few, you are VERY likely to have errors in your back pay calculation.
Below we are providing you with screenshots from Phoenix that should help you to check your own data. Please review it closely. You won't be able to make all the verifications since the accessible information is not precise enough; however, you will be able to check the computation per pay period. There are indications that sometimes this computation is off.
How to View and Download your Retro Payment
In order to verify your retro pay, please login into Phoenix through the portal on the Green Laptop using MyKey and use the following instructions (screenshots further down).
Go to:
"Payroll and Compensation" -> "View Mass Retro Payments" -> "View Retro Data"
You can view and download, as an excel spreadsheet, the retro pay data for all of your pay periods. This spreadsheet also includes the old and new hourly rates. Please verify that the computations supporting your back pay amounts are correct. You will find some minor differences since the spreadsheet is not precise due to rounding; however, you should find reasonable values (within a few cents/dollars). Please note that there is a slight discrepancy in the hourly and annual rates given in Phoenix vs the negotiated salaries in your collective agreement.  The discrepancy is due to the biweekly pay system used.  Divide the salary rate by 1956.6 hours/year since the average calendar days per year is considered 365.25 to factor in leap years.  A condensed explanation is found on the Treasury Board (website https://www.tpsgc-pwgsc.gc.ca/remuneration-compensation/services-paye-pay-services/paye-information-pay/paye-talon-stub-pay-eng.html#a4). To determine your gross bi-weekly pay (before deductions), divide your annual salary by 26.088. To determine your hourly gross rate of pay, divide your annual salary by 52.176 to obtain the weekly rate, and then by the number of hours in your standard work week (37.5).
NRC has asked that we give them time to correct the errors in retro pay before we contact them directly.  They believe they know where most of the errors are and are working to fix those errors by the Jan 9, 2019 pay period.  However, if the errors result in undue hardship, then please email your issues to NRC.Pay-Renumeration.cnrc@nrc-cnrc.gc.ca and include your Research Centre/Branch.
The instructions below explain how to obtain the detailed breakdown of retro pay in an  Excel spreadsheet from Phoenix:
"Payroll and Compensation" -> "View Mass Retro Payments" -> "View Retro Data"
Click on "View Retro Data"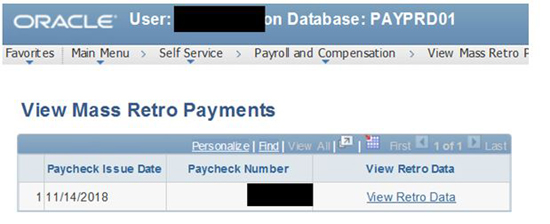 Click on the spreadsheet icon to download as an Excel spreadsheet

Example of "errors" in the spreadsheet:
In this example, it is hard to believe that a reduced 2-week period (45 hours) ends up in negative pay!

Deductions:
The deductions to your retro pay are detailed in the "view paycheque" screen in Phoenix of the retro payment. 
CIT (Canadian income tax) Taxable Gross = Gross Earnings – Total Deductions (for additional pension contributions)
Total taxes are on the CIT Taxable Gross amount.
Net Pay = Gross Earnings – Total Taxes – Total Deductions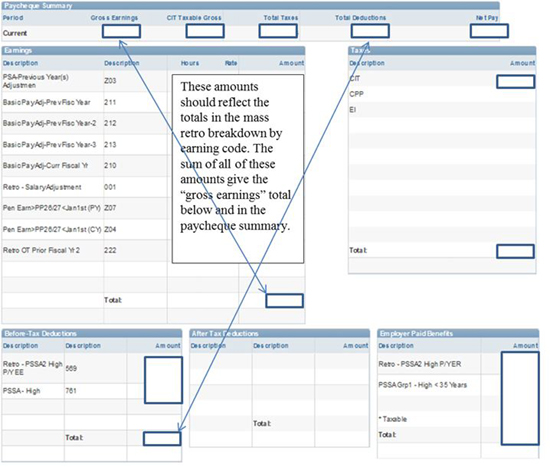 Additional information on how to read your pay stub: https://www.tpsgc-pwgsc.gc.ca/remuneration-compensation/services-paye-pay-services/paye-information-pay/lire-paye-talon-read-pay-stub-eng.html.