This summer, public service employees are still experiencing problems with the Phoenix pay system.
We learned in late June that a significant number of claims for expenses caused by Phoenix-related problems were rejected.  Out of the almost $700,000 claimed in June, only $100,000 has been approved. It is very discouraging for our members that our employer is not paying the costs that its system is forcing us to absorb, such as non-sufficient fund fees, accountant fees to help remedy the various situations, and interest on transactions and credit cards.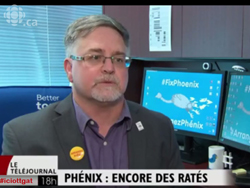 Radio-Canada interview on August 11, 2017
A new dashboard has been posted showing the progress that has been made in handling the problems. Each month, close to 70,000 transactions are received and the team processes about 90,000 transactions. But with a backlog of approximately 230,000 transactions, it will take more than 12 months for all of the files to be processed. "Be patient" is the message we are getting from Public Services and Procurement Canada.
Link: Public Service Pay Centre update: www.tpsgc-pwgsc.gc.ca/remuneration-compensation/paye-centre-pay/tableau-07-2017-dashboard-eng.html
We learned recently at an emergency meeting of the Union-Management Consultation Committee on Phoenix that the government will not be publishing summary statements on pensions and benefits this year. Why not? There are too many errors in the pay status figures for those reports to be realistic. This is another side effect of the Phoenix fiasco. The Pension Centre staff will, however, assist you if you are planning to retire soon.
We found out that retroactive pay is gradually getting processed. Simple files are processed first, but the employer has three to five months to process the more complex files, according to the agreements. All members of the SP and AV Groups are supposed to receive what is owing to them by the end of August. A first lot of PA Group members were supposed to be paid the first week of August, which caused breakdowns and service cuts in the Phoenix system. That experience made us realize that things were poorly planned in terms of the system's capacity to respond to the needs of users during peak periods.
| | | |
| --- | --- | --- |
| Group | Attempt | Deadline |
| SP | May 27–28 | Aug 13 |
| AV | May 13–14 | Aug 26 |
| RE | Jun 24–25 | Sep 29 |
| CS | Sep 3–4 | Nov 1 |
| SH | Sep 2–3 | Nov 3 |
We are continuing to pressure the government to fully correct this situation. It is unacceptable that, after 18 months, employees are still having pay problems and that their financial situation has been put at risk— not to mention the impact it can have on their families and their mental health. I encourage you to continue to talk about your problems, to insist to your supervisor that your issues are addressed, to be visible by wearing the PIPSC button, and to contact your MP. #FixPhoenix
Stéphane Aubry
Vice-President, PIPSC
August 14, 2017