Statistics Canada Branch - AGM – October 31st, 2017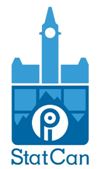 To: All members of the Statistics Canada Branch of the Professional Institute of the Public Service of Canada (PIPSC)
You are all cordially invited to the 12th Annual General Meeting (AGM) of the Statistics Canada Branch of the National Capital Region of PIPSC.
Date: October 31st, 2017
Time: 12:00 – 13:00 *
Place: Simon Goldberg Conference Room, R.H. Coats Bldg, Statistics Canada
All PIPSC members who work for Statistics Canada in the National Capital Region and all retired PIPSC members who worked for Statistics Canada and reside in the National Capital Region are automatically members of the Statistics Canada Branch. PIPSC members who will have left the department before that date and Retired members who wish to attend the AGM, should make arrangements in advance for access to the building by contacting Tony Goddard (613) 867-6596.
There will be door prizes for those who attend, and a light lunch will be served.
*: Please ensure that you have made the proper arrangements concerning your hours of work if you attend this event.
Agenda:
Approval of the Agenda
Introduction of the current Branch Executive
Review of Minutes from AGM 2016
Business Arising from Minutes from AGM 2016
Elections (President, Treasurer, 3 members-at-large for 2 years, 2 members-at-large for 1 year)
2016 Financial Statement
2017 Year-to-date Financial Statement (For information only)
2018 Budget
Branch President's report
Social Events Reports
Statistics Canada President of Consultation Tony Goddard
New Business
Door Prizes
Please remember, YOU are the union. This AGM is your opportunity to help us set the budget for the Branch, as well as get information on important issues with which your union deals.
Please send all requests for special accommodations to Don Whiting (613) 219-9622 by October 20th, 2017.
Your Statistics Canada Branch Executive:
Robert Hébert, President
Greg Bell, Vice-President
Eric Hortop, Treasurer
Harold Mantel, Secretary
Kathleen Emberson, Member-at-Large
Tony Goddard, Member-at-Large
John Meier, Member-at-Large
Jack Singleton, Member-at-Large
Marc Thomson, Member-at-Large
Don Whiting, Member-at-Large
Please also see: www.facebook.com/PIPSCStatCanNCRBranch