PIPSC is reaching out to students hard hit by the federal government's Phoenix pay problems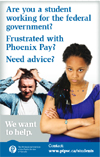 by offering guidance and advice on navigating the government's existing processes to ensure they get paid. While we cannot represent these young workers, we do feel it is vital to offer what assistance we can to the next generation of federal public service employees. This assistance in no way interferes with the assistance we are currently offering members faced with similar problems.
Members who know of students facing Phoenix pay problems are encouraged to direct these student workers to www.pipsc.ca/students for assistance. No one's work should go unpaid.
We have created a poster to promote this initiative in your worksite. You can download it here or request copies from HelpDesk@pipsc.ca.
Better Together!
Debi Daviau
President