Diversity and Inclusion in the Public Service
Note: Some Government of Canada sites block access to YouTube for their employees. If you are experiencing technical difficulties viewing this video from your workplace, please try accessing it from your home computer.
On December 11, 2017, the federal government released "Building a Diverse and Inclusive Public Service," the final report of the Joint Union/Management Task Force on Diversity and Inclusion.
The Task Force was launched in November 2016, with a one-year mandate to define, establish the case, and make recommendations towards a framework and action plan for diversity and inclusion in Canada's public service.
Diversity in the public service is an important issue because Canada's demographic landscape is changing and the public service must keep pace with this evolution to provide better services and be a model for other employers. Greater diversity and inclusion create better results and performance for organizations.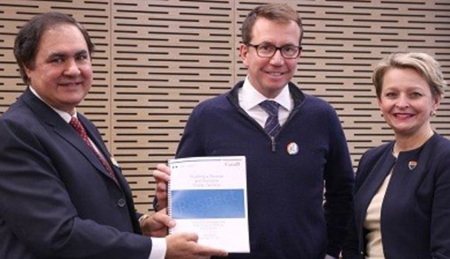 Treasury Board President Scott Brison with Technical Committee Co-Chairs Waheed Khan and Louise Mignault
"We need to identify and address systemic barriers that keep certain groups of talented Canadians from joining the federal public service and advancing to positions and levels where they can make optimal contributions to the health of public service institutions and serve all Canadians with excellence," says PIPSC President Debi Daviau. "We need to develop leadership that is capable of and committed to changing the culture of the public service to become more representative and inclusive; a public service that rewards talent, professionalism and dedication, and where the background, culture, religion and any other identities are valued and respected."
The Task Force identified the following four areas for action and recommendations:
People management;
Leadership and accountability;
Education and awareness; and
A Diversity and Inclusion Lens.
Section 8 of the report provides a comprehensive view of its 44 recommendations. 
The Task Force believes that the implementation of the recommendations in the final report will facilitate a fundamental culture shift in Canada's public service toward a more diverse, inclusive and innovative workforce and workplace.