Every day you go to work to protect and serve Canadians in a hundred different ways. Whether you work for the federal government, an agency, or are on the front lines delivering health care, the public service moved mountains this past year.
You've been there for Canadians – and for each other. At PIPSC, we have each other's backs.
Read some inspiring member stories, and then enter to win a $250 gift card to Canadian Tire or Apple AirPods by filling out a short survey.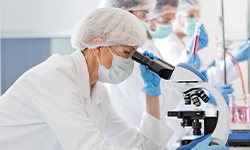 PIPSC members at the National Microbiology Lab in Winnipeg stepped up to innovate when a global shortage in lab supplies bottlenecked our ability to diagnose COVID-19. Thanks to these scientists and their "Made in Canada" approach, Canada's testing capacity went from being able to run a few thousand COVID-19 tests a day to 200,000.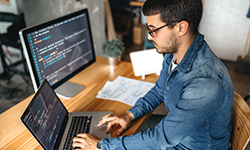 Members across PIPSC groups collaborated to build the CERB system that got income support to Canadians who needed it right away. Members were on call 24/7, working evenings and weekends for 4 weeks on a project that would normally have taken 2 years to get off the ground.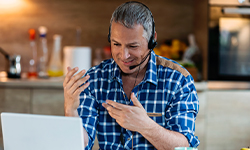 PIPSC members mobilized to work long shifts on the busy CERB phone lines to answer calls and help Canadians get the income support they needed. This was totally outside of their normal jobs, but these dedicated professionals knew that all hands on deck were required to help Canadians get through the pandemic.
Celebrating YOU! National Public Service Week survey and contest.
Your union celebrates everything you do for Canadians. By completing the brief survey below, you'll be entered to win your choice of either Apple AirPods or a $250 Canadian Tire gift card.
Submissions must be received by midnight on Sunday, June 20, to be eligible to win. All PIPSC members are eligible. Winners will be selected through a random draw. Only contest winners will be contacted. Any questions regarding this contest should be directed to bettertogether@pipsc.ca.
Please disconnect from the government's VPN and use a personal device in order to ensure the contest form loads below.