Fellow members,
National Public Service Week is an occasion to recognize and celebrate the contributions public service professionals, like you, make to Canadian society.
I'm honoured to be part of PIPSC's legacy in National Public Service Week; in fact, we proposed the idea in 1992. Over 26 years later, we continue to celebrate even in the face of the Phoenix crisis.
On behalf of The Professional Institute, I applaud your accomplishments. Thank you for your professionalism, dedication, and continuing to do your job, on behalf of Canadians, even when knowing you may not be paid correctly, if at all.
I want to take a moment to especially thank you for stepping up. Our members have gone above and beyond over the past two years to perform their jobs without the trust and security of a consistent pay cheque.
I'm proud of two years of constant pressure on the government to find a solution and to build an alternative system. In its latest Budget, the government committed $16 million towards the building of a new system that will ensure all public servants get paid accurately and on time. But that's just a start.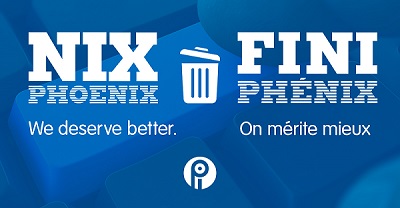 We have to continue applying pressure on the government to make sure that our members are directly involved in the development, implementation and maintenance of this alternative system.
The government can do more, and Canadians deserve better, much better!
This week, I will be announcing PIPSC's next steps in our plan to Nix Phoenix — so make sure to check your inbox in the coming days
As you celebrate your accomplishments, I encourage you to support our campaign by wearing Nix Phoenix buttons and decals.
You can order them at bettertogether@pipsc.ca. Please indicate the number of buttons and/or decals you need, and make sure to include your mailing address. Remember to share pictures of your local events on our Facebook and Twitter page!
Thank you again and happy National Public Service Week!
Better together,
Debi Daviau
President, PIPSC
action.pipsc.ca/nixphoenix