All three parties met to continue bargaining in Winnipeg on November 1, 2 and 3, 2017. Issues were presented and the parties engaged in constructive and collaborative discussion using the Interest Based Negotiations (IBN) model (see below).Following the IBN process, various interests and possible options were generated relative to the issues raised by the members. Several administrative issues have been tentatively agreed to. Further dates have been scheduled for November 28, 29, and 30, 2017.
Interest Based Problem-Solving Spiral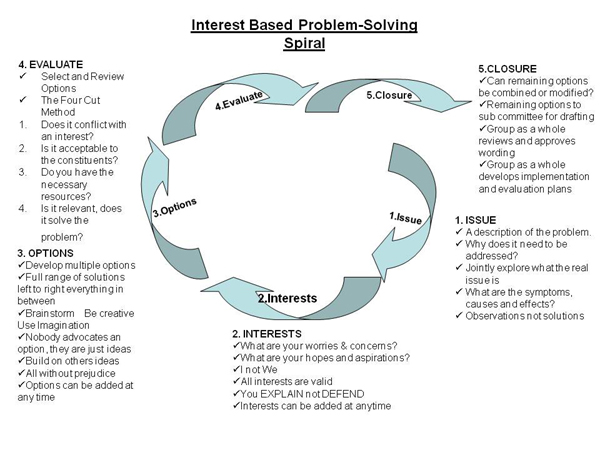 1. ISSUE
A description of the problem.
Why does it need to be addressed?
Jointly explore what the real issue is
What are the symptoms, causes and effects?
Observations not solutions
2. INTERESTS
What are your worries & concerns?
What are your hopes and aspirations?
I not We
All interests are valid
You EXPLAIN not DEFEND
Interests can be added at anytime
3. OPTIONS
Develop multiple options
Full range of solutions left to right everything in between
Brainstorm Be creative Use Imagination
Nobody advocates an option, they are just ideas
Build on others ideas
All without prejudice
Options can be added at any time
4. EVALUATE
Select and Review Options
The Four Cut Method
Does it conflict with an interest?
Is it acceptable to the constituents?
Do you have the necessary resources?
Is it relevant, does it solve the problem?
5.CLOSURE
Can remaining options be combined or modified?
Remaining options to sub committee for drafting
Group as a whole reviews and approves wording
Group as a whole develops implementation and evaluation plans