SP NCR & Tunney's Plus Networking Event:
                                           2022 Ottawa River Boat Cruise
Date: August 9, 2022 (Tuesday) 17:30 – 22:00 PM
Where: Ottawa River Queen, departure docks located at 895 Rue Jacques-Cartier, Gatineau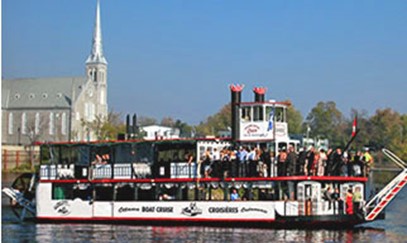 Dear Members,
As we transition back to normalcy following the two years of Covid-19 restrictions and isolation, your SP NCR and Tunney's Plus subgroups are organizing a networking event on the Ottawa River. This event will offer a networking opportunity to hear the latest updates from union leadership and show appreciation for our members.
The boat cruise will include a complimentary buffet, cash bar and live music. Please note that each member can bring one adult guest as this is an adults-only event. In order to keep the cost affordable, an advance non-refundable contribution of $25 per person is required upon the confirmation of registration. Please note that registration will commence at 5:30 PM and the boat will leave promptly at 6 pm
Due to space limitations, members will be registered on a first-come, first-served basis. Please email the registration details to Dr. Shamil Cathum (scathum@pipsc.ca) by July 20, 2022. Upon receiving your request for registration, Dr. Cathum will instruct you on how to send a $25/per person contribution. You will be notified of your registration status via email.
Better Together
SP NCR & Tunney's Plus Executive
Registration:
Name: (LAST NAME, FIRST NAME)
Department:
One Guest: Yes/No
Subgroup: NCR/Tunney's Plus
Phone: 
Email:
Occupational Group: AC/AG/BI/CH/FO/MT/PC/SG SRE
PIPSC Membership #: