On February 6, the affiliates of the Canadian Labour Congress took over Parliament Hill. A delegation of over 323 activists from all trades met with members of the federal parliament to raise key issues that affect all Canadian workers.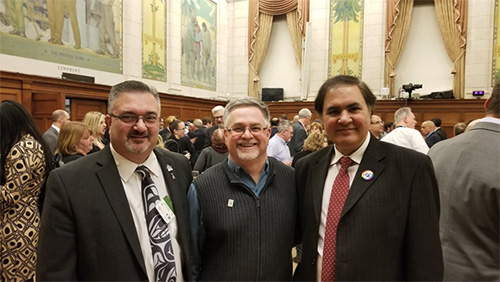 We asked for improvements on the Employment Insurance to better reflect the evolution of the society, by adapting to precarious workers reality, and to be more inclusive for low-income families and migrants. Equity is still a hot topic in Canada, and we asked the government to pass pay equity legislation as proposed by the government task force in 2004. Having seen horrors stories of bankrupted corporations (Nortel, Sears...) we asked for better protection of the pension of the workers by changing the bankruptcy laws and setting up Canada-wide pension insurance.
The big ask was to establish a Canada-wide Pharmacare program. It's time Canadians get a real coverage for all prescription drugs, that is accessible to all, wherever you live, and publicly managed.
In teams of 4 activists, I had the chance to meet with MP Alexandre Boulerice, MP Pierre Nantel, and Minister of Public Service Carla Qualtrough. We tried to stay on focus, but we couldn't resist talking about the #Phoenix fiasco and the harassment issues at Canada Post.
It was a memorable day. Thanks to all those at the CLC and within PIPSC, for creating such opportunities to raise worker's issues to the Parliament.