REGIONAL DIRECTOR'S REPORT – BC/YUKON REGION
June / September 2017

I sincerely hope this report finds you and your families having a great summer. Soon we will be back to school and back to work!
This update will focus on our recent Regional Council held this past June, and provide some information on upcoming events in the region.
REGIONAL COUNCIL 2017
The 73rd BC/Yukon Regional Council was held Friday, June 2 and Saturday, June 3, 2017 at the Delta Burnaby in beautiful Burnaby, BC.   Immediately before Council the Branch Presidents had their annual meeting and VP Steve Hindle hosted a Vice-President Breakfast for Branch Presidents and members of the Regional Executive.   A total of 51 delegates were invited and the event was chaired by Richard Barkwill with the assistance of Parliamentarian Dan Jones.   Thank you Richard and Dan!
Legacy Cup Winners!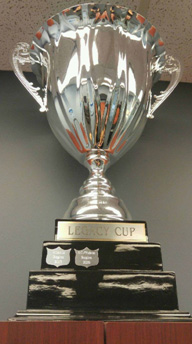 This year's Regional Council was also home of the PIPSC Legacy Cup in recognition of the BC/Yukon's success in last year's Legacy Challenge between the Regions.  The Cup certainly looked right at home in the BC/Yukon Region.
Legacy Cup in its new home – BC/Yukon Region!
Members are encouraged to make donations to the Legacy Fund as part of their PIPSC travel claims (for example – just one night of incidentals)
Resolutions & Reports
Delegates at this year's Council debated and approved resolutions on:
1) The Use of Gender Neutral Language in PIPSC By-laws, Regulations, and Policy; and
 2) The Region conducting a study on Joining the BC Federal of Labour.
The motion of Gender Neutral Language will be forwarded to the PIPSC National AGM in November.
Delegates also received reports from the Regional Director, Regional Office, Treasurer, Committees of the Board, Regional Executive and Branches.   You can view all of the reports on the Council's virtual binder
Delegates received updates and presentations on the Legacy Cup Challenge and Scholarship Program; PIPSC's planning for its 100th Anniversary; the need to be vigilant on Bill C-27 (attack on pensions) by Director Greg Scriver; and, PIPSC's financial information from Directors Sean O'Reilly and Del Dickson.  Thank you to brothers Greg, Sean and Del who joined Council via WebEx to provide these updates.
Keynote Speakers
Council was also extremely fortunate to host three keynote speakers including: Vice-President Hindle who provided the PIPSC 2017 Update; Seth Klein, BC Director of the Canadian Centre for Policy Alternatives who outlined the progressive initiatives of the CCPA; and Bob Dewar, Chief of Staff for NDP Leader John Horgan, who discussed the unfolding events from the BC Provincial Election.
Bob Dewar – Campaign Manager NDP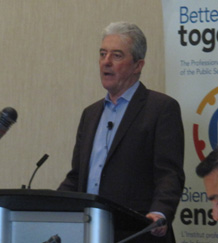 In addition, Mr. Paul Huschilt joined Council this year to share his perspectives on stress and changes in our workplaces, as well as host and provide the evening entertainment for delegates. 
Awards – Karen Hall & Don Burns
This year's winner of the Regional Executive of the Year was Karen Hall and a special service award was presented to former Vice-President Don Burns for his years of service to the Institute.  Congratulations to both Don and Karen!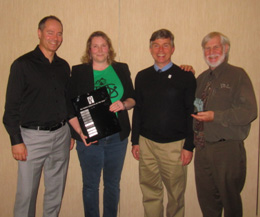 Left to right – Carl Cahoon, Chair of Awards Committee; Karen Hall, Executive of the Year; Robert MacDonald, Regional Director; Don Burns Former Vice-President. 
Regional Executive Elections
Congratulations also to Adele McLean, Ken Antao and Pierre Charpentier who were elected for three year terms on the BC/Yukon Regional Executive. 
Special thanks to Carol-Ann Lonsdale, Wanda Aschacher and Karim Chaggani, who all chose not to run again, for your years of service on the Executive.
Contact information for your Regional Executive
UPCOMING REGIONAL EVENTS
Check out information on activities in the BC/Yukon Region
Check back often, as information is constantly updated and new information is added.
Steward Council 2017
Steward Council is scheduled for Friday, October 21 and Saturday, October 22, 2017 at the Sheraton Vancouver Airport Hotel in Richmond BC.
Executive Training – December 2, 2017
Are you a member of Branch, Group or Sub-Group Executive?  Are you thinking about becoming an executive member?  Have you ever wondered what are the roles and responsibilities of such a position at PIPSC?  We have training for that...
The Institute will be offering Executive Training on Saturday, December 2, 2017 at the Pacific Gateway Hotel at Vancouver International Airport (Richmond BC).  All PIPSC members serving on a constituent body are eligible to attend.  Please look on our website and complete an online application, as space is limited.
BC/Yukon Region – Youth Forum – December 2, 2017
The BC/Yukon Region will be hosting a Youth Forum on Saturday, December 2, 2017.  PIPSC members 40 years of age and under will meet for the day to explore issues unique to them in the workplace and in our Union.
This Forum will be led by our recently formed BC/Yukon Youth Committee who will have participated in the 2017 PIPSC National AGM and Youth Symposium. More details to follow.
GETTING INVOLVED
The long term success of our Union, and our Region, is dependent on the ability to engage our members and advance the cause of professionalism, public service and labour in our community. 
Please consider getting involved in your Union.  Contact your local Branch, Group or Sub-Group, attend a Union meeting, nominate someone for an award or become a steward in your workplace!
Finally, I would like to thank all those members, activists, stewards and staff, for all of your time and effort in making this another successful year for PIPSC and the BC/Yukon Region.  Thank you...
If you have suggestions, ideas, questions, or would like me to attend an event in your workplace, please give me a call or send me an email.  
Better Together!
Rob
Robert MacDonald, B.A., MRM
Steward
Director, BC/Yukon Region, PIPSC
236-888-8739
Below – Who does what - structure of PIPSC!